MOLET IL BEVI!
La vita è imprevedibile... non pensare mai di avere certezze, il risveglio potrebbe essere un incubo ... [SK]
nella vita l'unica cosa che si può fare è RISCHIARE! HO RISCHIATO ed ho perso ... ma non ho rimpianti [VLD]
...eppure non mi cambierei mai con uno scridel [VLD]


Lezione di vita 1: non dire gatto se non l'hai nel sacco.
Lezione di vita 2: la madre degli stronzi non abortisce mai.
Lezione di vita 3: non solo le madonne piangono ma anche i comunisti.
.... a volte mi diverto a tirare la corda .... dei pescatori :)
Si comincia a pescare soldini anche via sms :)
dal +919824078007 ti mandano il seguente:

Messaggi per te! Un amico ti ha inviato Smshot. Chiama da telefono fisso 89-902-85-36 e ascolta la voce registrata. Info-costi www.smshot.tv

e dal sito scopri che il servizio ti costa solo 15 euro:)) ... e che qualsiasi può aver inserito il tuo numero su un form dove per parare il loro culo si deve assurdamente dichiarare [Confermo di avere l'autorizzazione del destinatario a fornire il suo numero di cellulare per questo scopo]
Ed ora divertiamoci coi furbi che agiscono sugli allocchi!

PROVANO A FREGARTI SFRUTTANDO LE FFSS .... GIA' DERELITTE DI LORO :)

Gentile Viaggiatore,

Ferrovie dello Stato è lieta di informarla che dal 1° Maggio 2008 è possibile richiedere il rimborso sui ritardi effettuati su tutte le tratte nazionali.

A seguito di ciò, la informiamo che da un nostro controllo contabile, le spetta un rimborso di Euro 780,00.

La invitiamo a visualizzare il modulo in allegato, e seguire le istruzioni per farci pervenire tale modulo.

N.B.
Il rimborso avverrà mediante bonifico bancario entro e non oltre 5 giorni lavorativi dalla ricezione.

-------------------------------------------------------------------------------------------------------

Qualora si verificassero problemi con il mdulo allegato, può visitare il nostro sito
o scaricare nuovamente il modulo qui

-------------------------------------------------------------------------------------------------------

Certi di averle fatto cosa gradita
Porgiamo Distinti Saluti

Ennio Zibris
Responsabile Rimborsi
Trenitalia S.p.a.
PROGRAMMA "GUADAGNA CON L'E-MAIL"
LEGGI FINO IN FONDO… NON TE NE PENTIRAI!!!
BENVENUTO IN QUESTO SEMPLICE E REDDITIZIO SISTEMA DI GUADAGNO.
NESSUNA VENDITA, NO CATENE S.ANTONIO, NESSUN INVESTIMENTO, PROVARE NON COSTA NULLA, NON CI PERDI ASSOLUTAMENTE NULLA, IN QUALSIASI MOMENTO PUOI MOLLARE TUTTO…
MA QUANDO VEDRAI CHE SI GUADAGNA DAVVERO, DUBITO CHE MOLLERAI…
COME FUNZIONA IL SISTEMA:
ISCRIVENDOTI AI SITI ELENCATI IN FONDO ALLA PAGINA (sono i migliori, testati personalmente) SARAI PAGATO PER LEGGERE E-MAIL PUBBLICITARIE, VISITARE SITI ED ISCRIVERTI AD ALTRI SITI DI GUADAGNO CON LE E-MAIL.
FORSE TI CHIEDI COME MAI. E' SEMPLICE: PAGANDOTI PER RICEVERE E-MAIL O APRIRE SITI QUESTE AZIENDE POSSONO DIMOSTRARE AI LORO CLIENTI DI AVERE UN GRANDE NUMERO DI PERSONE CHE VEDONO LE PUBBLICITA' E VISITANO I LINK, QUINDI POSSONO VENDERE BENE GLI SPAZI PUBBLICITARI SUI LORO SITI.
ECCO QUINDI COME FUNZIONA IL LAVORO:
A) TI ISCRIVI A TUTTI I SITI CHE TROVI IN FONDO ALLA PAGINA
B) DOPO ESSERTI ISCRITTO MODIFICHI QUESTA INFORMATIVA IN MODO CHE I LINK ABBIANO IL TUO USER NAME IN FONDO E QUINDI OGNI PERSONA CHE PORTI SIA SOTTO DI TE E TI PORTI GUADAGNO.
C) TI ISCRIVI AI SITI DI PUBBLICITA' GRATUITA E INSERISCI UN ANNUNCIO CHE SPIEGHI BENE CHE COSA PROPONI (UN LAVORO DOVE NON SI DEVE VENDERE, NE' INVESTIRE NIENTE)
D) INVII L'INFORMATIVA MODIFICATA A CHIUNQUE TI CHIEDA INFORMAZIONI.
E) A QUESTO PUNTO TU SEI PARTE ATTIVA DEL SISTEMA, IO NON SONO IL TUO CAPO, TU NON LAVORI PER ME, SE TU TROVI IN GIRO SITI CHE PAGANO BENE, INDICAMELI PER EMAIL, COSI I RUOLI SI RIBALTERANNO E IO DIVENTERÒ TUO AFFILIATO. FORSE ADESSO HAI INIZIATO A COMPRENDERE CHE QUESTO LAVORO CONSISTE NELLA PIENA COLLABORAZIONE TRA DI NOI.. TU AIUTI ME, IO AIUTO TE.. = GUADAGNIAMO DI PIU' TUTTI E DUE, E COSI VIA TUTTI GLI ALTRI..
Leggi attentamente, non te ne pentirai:
LA MIA EPERIENZA: SI GUADAGNA DAVVERO SENZA ALCUN INVESTIMENTO, te lo posso garantire. Ti assicuro che anche io ero molto dubbioso sulla validità di questi sistemi, ma dopo aver provato mi sono dovuto ricredere. Cercherò di aiutarti nel capire come fare a guadagnare con questo programma. Non è difficile, ma richiede un po' di impegno almeno all'inizio. Molta gente si tira indietro subito, magari alla prima difficoltà perché vede siti in inglese. Basta iniziare, poi vedrai che ti piacerà anche, sarà come avere un vero e proprio lavoro, con la comodità di startene bello rilassato a casa tua e di scegliere tu le ore da dedicare ai tuoi guadagni.
QUANTO SI GUADAGNA? Dipenderà solo da te, naturalmente maggiore sarà il tempo che dedicherai a questo programma maggiore sarà il tuo guadagno. SE SEGUI ALLA LETTERA TUTTE LE ISTRUZIONI E CI METTI UN PO' DI IMPEGNO QUESTO SISTEMA RENDE MOLTO, NON VOGLIO ILLUDERTI SPARANDO CIFRE ENORMI, TI DICO SOLO CHE POTRAI RICEVERE DOPO UN PAIO DI MESI di "purgatorio" ANCHE QUALCHE MIGLIAIA DI EURO AL MESE!! È CHIARO CHE PER QUELLE CIFRE DEVI IMPEGNARTI MOLTO E PUBBLICIZZARE CON COSTANZA LA TUA ATTIVITA'; SE TI ACCONTENTI DI MOLTO MENO BASTERA' SEGUIRE QUESTE ISTRUZIONI E GUADAGNARE 200 EURO AL MESE E' CERTO AL 100%.
COME MAI TI SPIEGO TUTTO QUESTE COSE? Ti chiederai il perché io sia cosi disponibile nell' aiutarti a guadagnare, giusta osservazione, stà proprio qui la chiave del sistema: se tu ti iscrivi ai siti che trovi in elenco alla fine di questo doc indicandomi come referente, loro per ringraziarmi mi daranno ulteriori guadagni. Chiaramente tu non ci perdi niente nell'indicarmi come referente, non devi fare nulla di manuale, basta che ti iscrivi ai siti che ti propongo clikkando sui link in fondo al doc.
Tu pretenderai la stessa cosa dai tuoi amici o dalla gente a cui parlerai di questo sistema. Me lo merito no?? Ti sto spiegando come guadagnare belle somme di denaro, offrendoti tutta la disponibilità nel risolvere ogni tuo dubbio (scrivimi a fai.soldi@email.it). A titolo informativo ti comunico che se non indicherai me come referente, ogni sito a cui ti iscriverai ti assegnerà automaticamente ad un membro del sistema a caso. Volendo, si guadagna normalmente anche non facendo iscrivere nessuno, ma se vorrai arrivare a ricevere cifre importanti dovrai pubblicizzare questo sistema e facendo iscrivere piu' persone possibili, questo ti consentirà di guadagnare anche sulle loro iscrizioni, più persone farai iscrivere più guadagnerai. Insomma dovrai pubblicizzare questo sistema proprio come sto facendo io, utilizzando se vuoi questo stesso documento.
COSA TI SERVE:
- Casella e-mail (Consiglio di fartene una nuova, utilizzandola solo per questo scopo)
- collegamento internet
- conto corrente bancario (non necessario ma consigliato, in quanto puoi far piovere i tuoi guadagni direttamente sul tuo cc; l'alternativa sarebbe farti spedire i soliti assegni a casa)
SE DECIDI DI PROVARE (E' GRATIS!!!), QUI NESSUNO TI CHIEDE SOLDI IN CAMBIO, PUOI SOLO GUADAGNARCI..
STAMPA QUESTA PAGINA E SEGUI LE ISTRUZIONI:
Ti spiego passo passo cosa devi fare:
Ci sono 2 fasi da seguire: A) iscrizione ai siti, B) pubblicità
A) Iscrizione ai siti
1) LA PRIMA COSA CHE DOVRAI FARE E' CLICCARE SUI LINK QUI SOTTO ELENCATI E INSERIRE LA TUA E-MAIL IN SIGN UP (o join). TI CONSIGLIO DI USARE UNA CASELLA DI POSTA CHE SERVA SOLO A QUESTO LAVORO, FARAI MENO CONFUSIONE, ANCHE SE POTRAI SCEGLIERE QUANDO TI ISCRIVI AI SITI DI NN RICEVER EMAIL, MA CONTROLLARE DIRETTAMENTE SUL SITO GLI ANNUNCI CHE TI PERMETTONO DI GUADAGNARE. COMUNQUE, DOPO AVER INSERITO IL TUO INDIRIZZO DI POSTA, CONTROLLA LA TUA CASELLA. DOPO POCHI SECONDI TI ARRIVERÀ UN'ALTRA E-MAIL IL CUI LINK TI INDIRIZZERÀ AL FORM D'ISCRIZIONE. NON DEVI FARTI SPAVENTARE DAL FATTO CHE I SITI SIANO IN LINGUA INGLESE PERCHÉ I PASSAGGI SONO MOLTO FACILI. PER ISCRIVERTI A TUTTI QUESTI SITI CI VORRANNO CIRCA 3 ORE AL MASSIMO, MA CONSIDERA CHE E' UNA TANTUM E CHE PUOI FARLO ANCHE A TAPPE (ES. UN'ORA AL GIORNO).
NEL FORM D'ISCRIZIONE TROVERAI:
USERNAME= INSERISCI UNA TUA SIGLA A PIACERE CHE DEVI CONSERVARE INSIEME ALLA PASSWORD. TI CONSIGLIO DI USARE LO STESSO USER E PAROLA D'ACCESSO (PASSWORD) PER TUTTI I SITI PER NON FARE CONFUSIONE
E-MAIL = LA TUA E-MAIL
SEND EMAILS TO = DEVI SCEGLIERE DOVE FARTI INVIARE LE EMAIL: SOLO NELLA TUA CASELLA DI POSTA O ANCHE NELLA INBOX DEL SITO
FIRST NAME = IL TUO NOME
LAST NAME= IL TUO COGNOME
ADDRESS= IL TUO INDIRIZZO
STATE= INSERISCI N/A e nello spazio la PROVINCIA
COUNTRY= ITALY
ZIP CODE= INSERISCI IL TUO CODICE D'AVVIAMENTO POSTALE
REFERRER= DI SOLITO E' AUTOMATICO
CATEGORIES OF INTERESTS: SELEZIONA LE CASELLE IN MODO CHE TI SPEDISCANO LE E-MAIL IN BASE AGLI ARGOMENTI.
ATTENZIONE: NON SELEZIONARE LE CASELLE IN CUI TROVI SCRITTO DELETE ME; I CHEAT; DO NOT MARK THIS ONE
I WANT TO GIVE YOU ALL MY MONEY, I DON'T UNDERSTAND ENGLISH. NON SONO PRESENTI IN TUTTI I SITI MA FAI COMUNQUE ATTENZIONE.
ARE YOU GOING ON A VACATION?: ALCUNI SITI HANNO QUESTO SPAZIO IN CUI DEVI INSERIRE LA DATA IN CUI PREVEDI DI TORNARE DALLE FERIE O VACANZA NEL CASO TI ASSENTI PER QUALCHE GIORNO. QUESTA COSA E' MOLTO IMPORTANTE. SE VAI VIA DEVI ASSOLUTAMENTE PERDERE UN'ORA PER DIRE A TUTTI I SITI DI NON MANDARTI E-MAIL PER QUESTO PERIODO, ALTRIMENTI TI CANCELLANO!!!
PAYMENT METHOD:
- CHECK (assegno, a casa tua)
- MONEY ORDER O MONEY BOOKERS (trasferimento soldi, arrivano comunque a casa tua o alla posta).
- PUOI ISCRIVERTI A WWW.PAYPAL.COM E AVRAI UN ACCOUNT GRATUITO PER RICEVERE IL DENARO PRESSO LA TUA BANCA. E' UN VERO E PROPRIO CONTO CORRENTE ON LINE, IL PIU' DIFFUSO AL MONDO, TI PERMETTE DI AVERE DENARO ELETTRONICO PER FARE ACQUISTI SU INTERNET, EFFETTUARE E RICEVERE PAGAMENTI, INSOMMA è UTILISSIMO ANCHE AL DI FUORI DI QUESTO SISTEMA. NON SERVE LA CARTA DI CREDITO, TI BASTA AVERE UN CONTO CORRENTE BANCARIO TUO O DI UNA PERSONA DI CUI PUOI FIDARTI, INDICARE LE COORDINATE BANCARIE E RICEVERAI TUTTI I TUOI GUADAGNI DIRETTAMENTE IN BANCA. TI BASTA FARE UNA RICERCA SU GOOGLE PER CAPIERE BENE COME FUNZIONA. E' IL MIGLIOR METODO SECONDO ME, ANCHE PERCHE' E' LA FORMA DI PAGAMENTO PIU' USATA, PIU' RAPIDA E PIU' SICURA. (NOTA: L'ID (O USER NAME) DI PAYPAL E' LA CASELLA E-MAIL CON LA QUALE TI ISCRIVI A QUESTO SITO).
ORMAI NEI SITI SEMPRE PIU' SPESSO SI TROVA, COME FORMA DI PAGAMENTO , SOLO PAYPAL.
ISTRUZIONI PER RISCUOTERE DA PAYPAL: quando riceverai il tuo pagamento su paypal, puoi lasciare i soldi lì oppure riscuoterli. se decidi di riscuoterli (non farlo ogni 10 euro però) fai login nel tuo account e vai su "withdraw". poi su "transfer funds on your bank account", cioè "trasferisci i fondi sul tuo c/c". Lì ti chiedono le coordinate del TUO conto CORRENTE e sei a posto.
PASSWORD: INSERISCI UNA PASSWORD A TUA SCELTA CHE DOVRAI CONSERVARE INSIEME AL TUO USERNAME
A QUESTO PUNTO SEI PRONTO PER GUADAGNARE. CI SONO 5 MODI.
1) RICEVERAI E-MAIL PUBBLICITARIE CHE CONTENGONO UN LINK VERSO UN SITO CHE DEVI VISITARE PER IL TEMPO CHE APPARE SULLA SCRITTA O FINESTRA A SINISTRA. IL LINK CHE PAGA E' QUELLO CHE INIZIA CON IL NOME DEL SITO CHE TI HA MANDATO L'E-MAIL IN QUESTIONE. DI SOLITO E' IL PENULTIMO. MOLTI SITI PRIMA DI ENTRARE TI FANNO UN QUIZ STUPIDO (DI SOLITO TI FANNO CLICCARE UN NUMERO) PER CONTROLLARE CHE TU NON STIA USANDO UN PROGRAMMA AUTOMATICO PER LEGGERE LE E-MAIL. (UN'ALTRA PROVA CHE CON QUESTO SISTEMA SI GUADAGNA: LA GENTE CREA O ACQUISTA PROGRAMMI APPOSITI PER FARE QUESTO LAVORO SENZA "FATICA")
2) ALL'INTERNO DELL'AREA MEMBERS TROVI LA SEZIONE PAY2CLICK O PAYCLICK ECC. VI SONO ALCUNI BANNER CHE PUOI CLICCARE SEMPRE ASPETTANDO LA CHIUSURA DELLA FINESTRA O SCRITTA A SINISTRA. DI SOLITO APPARE LA SCRITTA YOUR ACCOUNT HAS BEEN ACCREDITED
3) SEMPRE ALL'INTERNO DELL'AREA MEMBERS TROVI PAYSEARCH. STESSE MODALITA': CLICCHI E ASPETTI CHE SI CHIUDA LA FINESTRA O LA SCRITTA A SINISTRA
4) ALTRA SEZIONE CHE TROVI NELLA TUA AREA MEMBERS E' PAY SIGNUP: CIOE' SEI PAGATO PER ISCRIVERTI AD ALTRI SITI. DEVI INSERIRE NEL BOX LA RISPOSTA DI ISCRIZIONE CHE TI ARRIVA DA QUESTI SITI.
APRI PIU' DI UNA SESSIONE DI INTERNET EXPLORER E APRI PIU' SITI IN CONTEMPORANEA o IMPOSTA IL TUO PROGRAMMA DI POSTA ELETTRONICA IN MODO DA APRIRE PIU' FINESTRE CONTEMPORANEAMENTE.
5) INFINE NELLA SEZIONE REFERAL O LOGOS E BANNERS TROVI SUBITO IL TUO REFERAL LINK CHE TI SERVE PER FAR ISCRIVERE ALTRE PERSONE E GUADAGNARE QUINDI ANCHE SUL LORO TRAFFICO. PER TROVARE ALTRE PERSONE PUOI INVIARE QUESTO PROGRAMMA A CHI VUOI TU OPPURE INSERIRE UN ANNUNCIO SOLO PER QUESTO PROGRAMMA NEI SITI DI ANNUNCI GRATUITI. QUESTA PARTE LA TROVERAI SPIEGATA NEL DETTAGLIO AL PUNTO B.
QUESTO E' IL SISTEMA PER GUADAGNARE CIFRE IMPORTANTI. SE RIESCI A FAR ISCRIVERE A QUESTI SITI ALMENO 20 PERSONE (SONO POCHISSIME, DILLO AI TUOI AMICI E FAI UN PO' DI PUBBLICITA' GRATUITA SUL WEB!!) E LORO FANNO ALTRETTANTO, E COSI' VIA, I TUOI GUADAGNI SARANNO INCREDIBILI!!!
Facciamo 2 conti:
tu fai iscrivere a un sito 20 persone.
Loro fanno altrettanto: sotto di te hai 400 persone.
Anche queste ne trovano venti a testa: siamo a 8000 persone.
Avanti, al 4° e ultimo livello siamo a 160.000.
(ma molti siti arrivano a 5-6 o anche a 10 livelli!!!!).
Certo, così é troppo facile. Mettiamo che solo il 30% delle persone creda nel programma e continui ad ampliarlo. Siamo comunque a 48.000 di persone, che ,se lavorano un'ora al giorno,ti rendono, come minimo, 10 cent l'una al mese (ma anche qui sto molto basso. Tengo conto che ciascuno apra solo dieci e-mail al giorno, quando te ne arrivano quasi 200!! E ho considerato la commissione minima, l'1%, quando in media è del 5%) . Totale: 4.800 euro al mese!!! Per un solo sito!!! Qui sotto ne troverai circa 20. 4.800 euro x 20 lo sai quanto fa? 96.000 euro al mese!!!!!!!
Ora, come vedi finora ho ipotizzato che il programma funzioni al 30%. Ma anche se funziona al 3% tu guadagni comunque 9.600 euro al mese!!! Naturalmente questa ipotesi è molto ottimista, e stiamo parlando comunque di almeno 4 livelli completi, che necessitano di almeno 6-8 mesi di lavoro per essere completati. Però ragiona:
Se , cifre alla mano, ti ho dimostrato che questo programma funzionando solo al 3% ti porta un reddito di 9.600 euro al mese, non é verosimile pensare, che, nella peggiore delle ipotesi, ti porti un guadagno di 4000 euro al mese (meno della metà), cioè 48.000 euro l'anno?!?
Sto parlando di un programma da distribuire gratuitamente, che non necessita di investimenti, né di conoscenze specifiche o tecniche di vendita, dove non offri un prodotto in cambio di denaro, ma un guadagno enorme senza alcun rischio!! Il tutto pubblicizzato gratuitamente sul media più potente della storia. E basta che funzioni allo 0,015% delle sue potenzialità per generare un reddito superiore a quasi tutti i lavori dipendenti (quindi sottoposti ad orari e padroni, cosa che tu non avrai).
Attenzione: ho fatto un calcolo basato sull'ipotesi che tutti inseriamo 20 persone. Ma per inserirne 20 , se segui le mie istruzioni, ti basterà un mese al massimo!! Pensa quante puoi inserirne in un anno!!!
Però devi seguire alla lettera le istruzioni e soprattutto capire che ci vuole tempo, pazienza e costanza per arrivare a questo risultato.
E RICORDA, QUESTA NON E' UNA CATENA DI SANT'ANTONIO (DOVE I SOLDI PASSANO SOLO DI MANO, SENZA CHE VENGA PRODOTTA NUOVA RICCHEZZA). TUTTE LE PERSONE CHE PORTI E QUELLE CHE LORO COINVOLGONO A LORO VOLTA, PRODUCONO UNA RICCHEZZA , CHE VIENE POI DIVISA, PERCHE' VENGONO PAGATE PER GUARDARE PUBBLICITA'. INOLTRE I SOLDI ARRIVANO IN ASSEGNI DIRETTAMENTE A CASA TUA OPPURE SUL TUO CC, E TUTTO "L'ALBERO" DI PERSONE SOTTO DI TE LO PUOI CONTROLLARE SUI SITI, E QUINDI NON PUOI ESSERE RAGGIRATO. E NON DEVI MANDARE SOLDI A NESSUNO, NON DEVI INVESTIRE NEMMENO UN EURO!!!
B) Pubblicità
Cerca su un motore di ricerca (uno di quelli principali: Google, Yahoo, altavista, ecc) : "annunci di lavoro", "annunci gratuiti di lavoro", "mercatino", "annunci gratuiti")
METTI ALMENO UN ANNUNCIO SUI PRIMI DIECI SITI (COME MINIMO) CHE RISULTANO DALLA RICERCA NELLE SUDDETTE 4 CATEGORIE (TOTALE 40 SITI, TEMPO STIMATO PER INSERIRE 40 ANNUNCI, PER UNA PERSONA "NON ESPERTA" ,4 GIORNI A 2 ORE AL GIORNO. USA "COPIA E INCOLLA" PER COPIARE LO STESSO ANNUNCIO SUI DIVERSI SITI) L'ANNUNCIO DEVE DIRE CHIARAMENTE CHE CON QUESTO SISTEMA SI GUADAGNA CON LE E-MAIL, CHE NON C'E' NESSUN INVESTIMENTO, CHE NON SI DEVE VENDERE NIENTE, CHE NON SEI DELL'HERBALIFE!!. QUANDO HAI FINITO DI METTERE ANNUNCI SU TUTTI I 40 SITI (CHE NEL FRATTEMPO AVRAI AGGIUNTO AI "PREFERITI", MAGARI IN UNA CARTELLA A PARTE) RICOMINCIA DALL'INIZIO. DEVI FARE PUBBLICITA' CONTINUA PER ALMENO 30 GIORNI IN QUESTO MODO. DOVRESTI AVERE ALL'INCIRCA 100 CONTATTI, DI CUI LA META' CIRCA ADERIRANNO. DI QUESTI 50 ALMENO 20 DISTRIBUIRANNO ANCORA QUESTO PROGRAMMA. IN QUESTO MODO POTRAI RAGGIUNGERE GUADAGNI ELEVATISSIMI. NON FERMARTI FINCHE' NON SEI SICURO DI AVER COINVOLTO ALMENO 20 PERSONE (DI' LORO DI CONFERMARTI LA LORO ENTRATA NEL PROGRAMMA). IL MIO CONSIGLIO PERO' E' DI NON FERMARSI PER ALMENO 6 MESI. COSA SONO 2 ORE AL GIORNO, 5 GIORNI ALLA SETTIMANA PER 6 MESI? UN REDDITO MINIMO DI 5000 EURO AL MESE NON VALE QUESTO PICCOLO SACRIFICIO?
SE POI HAI AMICI O PARENTI O CONOSCENTI ALL'ESTERO, MANDA LORO SUBITO UNA COPIA DI QUESTO PROGRAMMA. PIU' AMPIO E' IL TUO CAMPO D'AZIONE E QUELLO DEI TUOI AFFILIATI, PIU' CI SONO POSSIBILITA' CHE TUTTI I LIVELLI VENGANO COMPLETATI.
NATURALMENTE DOVRAI SOSTITUIRE NELLA LISTA I MIEI REFERAL LINK CON I TUOI (DOPO CHE TI SEI ISCRITTO A TUTTI !!!) E LA MIA E-MAIL CON LA TUA. ECCO COME FARE:
POSIZIONA IL CURSORE ALLA FINE DEL LINK. CANCELLA IL MIO USER NAME (paul99) E INSERISCI IL TUO. PREMI POI CONTROL (CTRL) E CLICCA UNA VOLTA SUL LINK, CHE VIENE COSI' EVIDENZIATO. CLICCA QUINDI COL PULSANTE DESTRO DEL MOUSE E VAI A "COLLEGAMENTO IPERTESTUALE". TI SI APRIRA' UNA FINESTRA. PREMI "OK". IL LINK E' PRONTO.
PER CAMBIARE L'INDIRIZZO E-MAIL QUI SOTTO:
- CLICCA UNA VOLTA SULL'INDIRIZZO COL PULSANTE DESTRO DEL MOUSE
- VAI A :"MODIFICA COLLEGAMENTO IPERTESTUALE"
- TI SI APRIRA' UNA FINESTRA. VAI A "INDIRIZZO DI POSTA ELETTRONICA E SOSTITUISCI IL MIO INDIRIZZO E-MAIL COL TUO.
- SOSTITUISCI IL MIO INDIRIZZO COL TUO ANCHE NELLA CASELLA "TESTO DA VISUALIZZARE".
PER QUALSIASI DUBBIO SCRIVI A fai.soldi@email.it
ISCRIZIONE:
ECCO LA LISTA DEI MIGLIORI SITI (SELEZIONATI, CIOE' PAGANO IN SOLDI, SONO APERTI DA UN PO' DI TEMPO, L'ISCRIZIONE E' GRATUITA) CUI DOVRAI ISCRIVERTI.
INUTILE DIRTI CHE A PIÙ SITI TI ISCRIVI MAGGIORI POSSIBILITA' DI GUADAGNO AVRAI, CHIARAMENTE NON DEVI PER FORZA ISCRIVERTI A TUTTI I SITI IN UN GIORNO.. FAI CON CALMA..
Per collegarti ai siti premi "ctrl" e clicca sul link, di fianco al link c'è il valore di PAYOUT, ovvero la cifra che devi raggiungere prima di poter richiedere il pagamento. Ti dico subito che generalmente i siti con un basso Payout (0$,1$,3$,5$,10$,15 $) sono quelli che pagano di meno per ogni email ricevuta, mentre i siti con il Payout medio-alto (da 35/40 $ in su) pagano di piu' per email ricevuta (anche 10,20 cents).
http://www.50centptr.com $0,50 CONSIGLIATO
http://adpaid.com $5 ALTAMENTE CONSIGLIATO
http://www.enchantedmail.net $5 CONSIGLIATO
http://www.haulingcash.com $5 ALTAMENTE CONSIGLIATO
http://www.mistyandsamscash.com $10 ALTAMENTE CONSIGLIATO
http://www.peststarmail.com $1
http://www.real-cashs.com $2 CONSIGLIATO
http://www.solocents.com $1 ALTAMENTE CONSIGLIATO
http://www.soredtherose.net $2 CONSIGLIATO
http://www.swampinemails.com $5
Se vorrai ti segnalerò per email le novità sui siti migliori, quelli che offrono promozioni allettanti etc.. Se tu trovi in giro siti che pagano bene, indicameli per email, cosi i ruoli si ribalteranno e io diventerò tuo affiliato.
RICORDATI ANCHE DI VISITARE OGNI SITO ALMENO UNA VOLTA OGNI 15 GIORNI, ENTRA NELL'AREA MEMBRI E , SE CE N'E' BISOGNO, SVUOTA LA TUA INBOX.
fai cosi:
dividi la lista in gruppi di 3, e ogni giorno entra nei siti di un gruppo.
molti hanno il log in automatico (lo devi selezionare quando entri) e comunque ci metti pochi minuti. in questo modo sarai sempre attivO e potrai tenere la casella vuota.
UN ULTIMO CONSIGLIO: SE HAI PiU' DI UN INDIRIZZO E-MAIL (MA CMQ è FACILISSIMO CREARNE UNO NUOVO), PIU' DI UN PC E Più DI UN INDIRIZZO DI RESIDENZA DA DARE (ES:CASA, LAVORO, GENITORI) ISCRIVITI PiU' VOLTE A QUESTI SITI ED INOLTRA QUESTO MESSAGGIO SOTTO ALTRI NOMI. IN QUESTO MODO POTRAI GUADAGNARE MOLTO DI PiU'!!! NON ISCRIVERTI ALLO STESSO SITO CON LO STESSO PC, TI RICONOSCONO E CANCELLANO L'ACCOUNT!!!
BUON GUADAGNO!!
SIGNORI SE SIETE DEI FESSI ACCOMODATEVI
SIGNORI SE VOLETE INFINOCCHIARE ALTRI OLTRE VOI STESSI FATE QUESTE PUTTANATE.
Eccovi una guida su come ricevere i prodotti gratis!!!!
Cellulari,tv al plasma,computer,abbigliamento e molto altro….
INTRODUZIONE
Ciò che state per scoprire in questa guida non è in realtà un segreto nel mondo degli affari,ma presto sarete grati con voi stessi per averla acquistata. Appena avrete finito di leggere ve ne renderete conto e farete tesoro di queste informazioni. Quindi cominciamo,ci sono in serbo per voi delle gradite sorprese!!!
Iniziamo ricordandovi alcune informazioni per capire meglio. Avete presente quei campioni gratuiti di shampoo,profumi,bagnoschiuma che trovate nei giornali gratuitamente? Quei campioni non hanno un grande valore,ma il meccanismo di base è lo stesso che sto per spiegarvi.
Le aziende(produttori e fornitori) si danno un gran da fare per il marketing,il loro obbiettivo principale è far comprare i loro prodotti. Per persuadervi a comprare sono disposti a regalare anche campioni gratis!!!
So che sembra impossibile,ma dovete crederci,come sono gratis i campioni di profumi,shampoo ecc.,saranno gratis anche altri oggetti di valore altamente superiore,come appunto cellulari,pc,tv ecc.!!!!
Vi invito fortemente a continuare a leggere,dovete fare solamente quello che vi viene mostrato!
Se siete grossisti o venditori al dettaglio o solamente interessati a vendere determinati prodotti che un'azienda vi fornisce,saprete benissimo che quest'ultime sono disponibilissime a mandarvi campioni gratuiti per far conoscere i loro prodotti.
Voi direte….."Ma come ci riusciamo?"
Per dirla in breve tutto comincia con una richiesta di prezzo,disponibilità e uno o due campioni…le aziende saranno felici di accontentarvi!!(sotto sarà spiegato meglio). Inoltre una volta che avete contattato un'azienda per un prodotto è comune che periodicamente ve ne vengano inviati altri simili in futuro!!
Praticamente un telefono che costa 400 euro,può costare 40 euro ad un'azienda,100 al fornitore per l'acquisto se non meno. Comunque se queste compagnie pensano di ottenere un incremento delle vendite o maggiori possibilità di guadagno inviandovi un campione gratuito solitamente utilizzano corriere espresso Ups nelle 48 ore. Nella maggior parte dei casi si fanno carico loro delle spese di spedizione.
Allora può interessarvi?...o pensate di aver sprecato i vostri soldi?
Continuate e non ve ne pentirete!!!
E' ORA DI INIZIARE
Per prima cosa è necessario avere un indirizzo di posta elettronica e l'indirizzo di residenza,domicilio o dovunque viviate. E' necessario dal momento che per ritirare i pacchi al corriere verrà richiesta una vostra firma alla consegna.
Per quanto riguarda l'indirizzo di posta elettronica avrete bisogno di un indirizzo di ottima qualità. Nel senso che probabilmente la maggior parte di voi ne avrà già uno,ma dovrete sottoscriverne un altro che dovrà sembrare professionale. Per farvi un esempio tiziocaio@hotmail.it non sembra un buon indirizzo e le società sicuramente vi ignoreranno. Voi avrete bisogno di un indirizzo che non vi faccia passare inosservati,per esmpio se vi chiamate Giulio Rossi sarebbe più adatto un indirizzo come:
Sotto sono riportati alcuni link di buoni siti che offrono servizi di posta elettronica. È bene non utilizzare i comuni hotmail o yahoo per il nome a cui pensate,probabilmente sarà occupato e poi sono domini rinomati per spam.
www.mail.com e-mail gratuita
http://www.ecofinance.com/free-email.html e-mail gratuita
www.xrs.net e-mail gratuita
www.techemail.com e-mail gratuita
www.joinme.com e-mail gratuita
Il passo successivo che vi suggerisco è di aprire un conto gratuito con un corriere tipo UPS o FedEx o DHL. Vi sarà assegnato un numero identificativo di conto. Questo numero sarà utile nel caso le società non vogliano farsi carico delle spese di spedizione,ma non è male dopotutto se pensate al valore di quello che potete ricevere gratis!!!
Il passo successivo è fare un controllo telefonico con l'azienda che fornisce il servizio di spedizione. Parlate con il servizio clienti e scoprite qual è il metodo di spedizione internazionale più economico(dovrebbe essere la DHL).
Assicuratevi di sapere il nome esatto del servizio,ad esempio"Tariffa Internazionale Economy" e menzionate questa tipologia di spedizione nella mail di richiesta,specificando che quello è il metodo con il quale volete fare arrivare i campioni. Tenete bene in mente che il pagamento della spedizione non è strettamente necessario per ricevere i campioni gratis,ma potrebbe invogliare l'azienda a spedirli più celermente.
LA RICERCA DELL'OBBIETTIVO
Continuiamo vedendo in che modo troviamo le aziende che ci interessano. Per telefoni,tv,portatili,dvd,provate i link sotto. Sono siti e contatti di aziende che producono i prodotti più disparati.
Una volta sul sito,mentre vedete la schermata,scorrete in basso dove dovreste trovare i contatti,l'indirizzo,l'e-mail e il numero di telefono.
A questo punto utilizzerete il vostro nuovo indirizzo e-mail per spedire una mail a queste aziende.
Ok,dal momento che siete all'inizio vi consiglio di iniziare con prodotti di qualsiasi categoria che hanno un prezzo al dettaglio basso,circa 20 euro.
Questo perché è necessario acquisire esperienza su come ricevere campioni. Dopo averne ricevuto qualcuno sarete pronti per richiedere cellulari,tv al plasma,portatili, ecc.. Ricordate,non riceverete tutti questi prodotti immediatamente!!!
Si raccomanda di essere impiegati o titolari di una società o conoscere qualcuno che è nel giro d'affari del commercio all'ingrosso anche per avere maggiori possibilità di ricevere i campioni gratuiti. Di solito tutti sono molto pazienti e disponibili pur di fare andare in porto le vostre richieste,quindi siate pazienti ed inoltrate.
Ad ogni modo essere dipendenti o titolari di società non è un fattore determinante,è possibile specificare che siete interessati ad acquistare un certo quantitativo di prodotti. Inoltre il metodo si può adattare a numerose attività o professioni svolte. Oltre ai commercianti,rappresentanti e venditori anche ad esempio:
- Chi lavora nei servizi di ricerche di mercato potrebbe avere bisogno di prodotti da testare.
- Se si è parte di qualsiasi associazione,circolo,fondazione per necessità di acquistare oggetti per i soci.
- Qualsiasi tipo di prodotto può essere acquistato per conto di un'altra società.
Insomma l'acquisto di prodotti in stock non è circoscritto per grossisti,ma potenzialmente a chiunque abbia la necessità,per qualunque scopo oltre alla vendita al dettaglio.
L'importante ai fini del rispetto della legge è non fornire informazioni o dati falsi,fasulli!!!
Ora che siete pronti possiamo iniziare,sulla pagina iniziale di uno dei siti sopraindicati ciccate su "product search". Da qui potete cercare e confrontare i prodotti. Sedetevi, rilassatevi e prendetevi il tempo che volete per dare un'occhiata ai prodotti che vi interessano.
Non siate frettolosi nel richiedere qualsiasi campione!!
IL CONTATTO
Avete diversi modi per prendere contatto con le compagnie che inviano i prodotti. Una volta che siete nella pagina del prodotto che vi interessa,potete ciccare sul nome della compagnia e verrete indirizzati nella pagina dove troverete le informazioni per il contatto,inclusi almeno uno o due indirizzi e-mail. Potete quindi inviare dal vostro nuovo indirizzo.
C'è un altro modo per mettersi in contatto con loro,basta ciccare,quando è presente,sulla voce "richiedi campione",sotto l'immagine del prodotto che state guardando o sopra l'immagine dove dice INQUIRE NOW;questi bottoni ti permettono di prendere il contatto con le compagnie attraverso il loro sito piuttosto che con una mail al loro account di posta.
Quando contattate queste compagnie dovete assumere un approccio professionale,presentatevi dicendo che siete interessati ai loro prodotti e che vorreste vi mandassero ulteriori informazioni ed un campione da esaminare. Assicuratevi di aver inserito il vostro indirizzo e-mail.
Cercate di essere brevi nelle e-mail di contatto,al massimo uno o due paragrafi. Non dimenticate di inserire il numero di conto della compagnia di spedizione,anche se non è essenziale le compagnie potrebbero richiederlo.
Ci vuole pazienza!!!
Dovrete essere a tutti i costi pazienti e perseveranti,probabilmente avrete bisogno di mandare qualche altra e-mail dopo quella di contatto;questa è una cosa buona perché vuol dire che le aziende si sono interessate a voi e vi diranno esattamente ciò che vorrete sapere. La pazienza è l'elemento fondamentale per il funzionamento di questo metodo,tutto va effettuato con calma e parsimonia.
Quando riceverete i campioni gratuiti saranno considerati come "commercial sample - no value",campione gratuito non destinato alla vendita e quindi non dovrete pagare nessuna tassa doganale. È un'ottima cosa dato il fatto che queste commissioni sono talvolta pari al 40% del valore dell'oggetto!!!
Se cercate di fare i soldi con i campioni allora avete molto da attendere. Questo è un modo divertente per imparare a trattare con le società,ricordate,RISPETTO e FIDUCIA giocano un ruolo fondamentale nell'ottenere successo. Fate pensare alle aziende che farete loro guadagnare un sacco di soldi!!!
ATTENZIONE: chiunque pretenda di essere il responsabile di un'azienda e ti sta chiedendo di mandargli dei soldi tramite Western Union per pagare tasse di spedizione o altro prima di inviare i campioni è da evitare!!!! Nella maggior parte sono truffatori che vi faranno credere di avervi inviato i campioni fornendovi numeri di spedizioni fasulli. Di solito sono dell'europa dell'est,Albania,Romania,Bulgaria,ecc.. Siate cauti quindi quando prendete contatto con qualcuno.
Abbiamo finito!!!!
Ecco un breve riepilogo delle cose da tenere a mente:
1- Siate pazienti,calmi ed abbiate un approccio professionale
2- Iniziate richiedendo oggetti di poco valore,è un consiglio vitale per prendere esperienza
3- Mettetevi in contatto con aziende che non hanno immagini di prodotti sul sito,che non godono di grandissima visibilità. Ciccate su "view more suppliere"(guarda altri fornitori) quando arrivate all'ultima pagina della categoria. Contattateli via e-mail e fatevi mandare una brochure di prodotti disponibili.
4- Pagare i costi di spedizione vi darà una percentuale di successo più alta.
5- Ricordate che non c'è limite delle compagnie da contattare,più ne contattate,più probabilità avrete.
6- Dopo aver acquisito esperienza potete incominciare a cercare le aziende utilizzando Google o Yahoo
7- In qualche caso potreste comprare qualche oggetto a prezzo di fabbrica ed iniziare una vera e propria vendita al dettaglio.
8- Insisto ancora su questo dettaglio:dovrete avere calma e pazienza…FONDAMENTALE!!
Qualche consiglio extra:
se volete essere sicuri di usare questo metodo nel rispetto della legge non dovete assolutamente fornire dati fasulli. Può essere usato in modo legale o illegale,siate onesti e seguite le istruzioni di questo documento.
Un buon consiglio è scannerizzare la vostra firma scritta a mano e metterla alla fine delle vostre e-mail per renderle più professionali.
Sotto per iniziare vi riporto un esempio di e-mail
Dear(nome del contatto o dell'azienda scelta)
I'm(il tuo nome),from(città dove risiedi) in Italy. We had opportunità to view your products your website and we would be interested on your(qui scrivi il nome in inglese dell'oggetto che ti interessa con la "s" finale per specificare il plurale) and eventually to procede to a bulk order(significa che avete visto i loro prodotti e siete interessati per un futuro ordine)
Could be you please mail me addictional info regarding this products,your best Ppu on quantity of 1k or 2k? Please let us know if the price includes royalties on applicable patents to this products(in poche parole state chiedendo informazioni sugli oggetti e che siete interessati all'acquisto di 1000 o 2000 pezzi)
Thank you for letting me now
(tuo nome)
Naturalmente la potete cambiare a vostro piacimento,questa è solo un esempio. Inoltre vi consiglio di iniziare con un piccolo investimento,100 o 200 euro,che vi aiuteranno per le spese di spedizione,ma anche questo è solo un consiglio,non una necessità!!
BUONA FORTUNA E BUON DIVERTIMENTO!!!
SIGNORI SE SIETE DEI FESSI ACCOMODATEVI
CONTINUANO DA MESI LE SIRENE DELLE POSTE ITALIANE
vedete di non inserire i vs dati ... o farete la fine dei pirloni!
Gentile Cliente ,

Per prima cosa vogliamo ringraziarla di usare i nostri servizi si BancoPosta Online e speriamo che siete sodisfatti della qualità dei servizi che vi offriamo.
Siccome nel ultimo periodo abbiamo avuto sempre più clienti che utilizzano i nostri servizi online,sono comparsi dei problemi nel nostro server, il sistema non riuscendo a tener fronte alla grande richiesta di transazioni cosi che alcune non sono state concluse oppure spesso escono errori come "Server too Busy" o "Transazione non riuscita, riprovare più tardi". Stiamo provando di risolvere al più presto questi problemi e per migliorare la qualità dei servizi abbiamo eseguito un upgrade al nostro centro di dati. Il rinnovamento del soft a portato la perdita di alcune informazioni, per quello vi preghiamo di confermare che il vostro conto e ancora attivo si che funziona in parametri normali. Per confermare tutte queste click sul seguente link:

La ringraziamo per la sua colaborazione con la BancoPosta Italiana

| Privacy | Trasparenza bancaria | Forniture e gare | Alloggi patrimoniali | Scadenzario fiscale |
© Poste italiane 2007 Partita Iva 01114601006
OPPURE
Caro cliente di Poste.it,
Per i motivi di sicurezza abbiamo sospeso il vostro conto di operazioni bancarie in linea a BancoPostaOnline. Dovete confermare che non siete una vittima del furto di identità per ristabilire il vostro conto.
Dovete scattare il collegamento qui sotto e riempire la forma alla seguente pagina per realizzare il processo di verifica.
https://bancopostaonline.poste.it/bpol/cartepre/formslogin.asp
Li ringraziamo per la vostra attenzione rapida a questa materia. Capisca prego che questa è una misura di sicurezza progettata per contribuire a proteggere voi ed il vostro conto. Chiediamo scusa per eventuali inconvenienti.
Grazie della collaborazione,
Poste.it
Ora si comincia con la storia dei soldati!

Dear Sir,
Good day to you,
My name is Capon Brian. I am an American soldier,serving in the military with the Third infantry Division in Iraq. I and my superior moved funds belonging to Saddam Hussein, the total is $25,000,000.00 (Twenty Five million US dollars) this money is being kept safe in a secured location. You can go to this web link to read about events that took place here: http://news.bbc.co.uk/2/hi/middle_east/2988455.stm Basically since we are working for the government we cannot keep these funds, we have decided to look for someone to help us If you are interested I will send you the full details.

Respectfully submitted
Capon Brian.
---
WWWOOOWWWW HO VINTO AL BONOLOTO INTERNACIONAL ... ricevo il 28 dicembre

mi scrivono da <euromoling2006@yahoo.com>:

FROM OFFICE OF THE DIRECTOR,
BONOLOTO INTERNACIONAL
PROMOTIONS PROGRAM.
AVENIDA PRIMADO REIG 3,28003, MADRID SPAIN.

REF:ESJP/6578347/06
BATCH:ESNM/9834/06.
RE:AWARD FINAL NOTIFICATION:

We are pleased to inform you of the result 1st december,2006 of the Bonoloto Internacional promotions program held on 24th November,2006.Your name attach to ticket number :ESPP/89877676 with serial number: EBCD/2345609 Batch number: ESNM/9834/06. Reference number:ESJP/6578347/06and drew lucky numbers 2-7-19-21-27-39 which consequently won in the 1st category, you have therefore been approved for a lump sum pay out of €1,300.000,00(One Million,Three Hundred Thousand Euros Only, ).Which has been insured in a Security Company. Due to mix up of some numbers and names, we ask that you keep your winning information confidential until your claims has been processed and your money remitted to your account. This is part of our security protocol to avoid double claiming and unwarranted abuse of this program by some participants. All participants were selected through a computer ballot system drawn from over 50,000 companies and 30,000,000 individuals email addresses and names from all over the world. This promotional program takes place every year. This lottery was promoted and sponsored by a group of successful electronic dealers.we hope with part of your winning,you will take part in our next year €30,000,000,00 (Thirty Million Euros) lnternational lottery. To file for your claim, please contact your agent,
SÑR. JUAN CARLOS.
BENCO SEGUROS ESPAÑA S.A.
GOMEZ BENLLOCH 20,28003, MADRID SPAIN.
TEL/FAX:0034680798470
Email:INFOMAILER2007@OZU.ES
Note: 5%(five percent) of your winning prize is for your agent as your sole representative. Please note in order to avoid unnecessary delays and complications, please remember to quote your reference number and batch number in all correspondence. Furthermore, should there be any change of address do inform your agent as soon as possible. Congratulations once more from our members of staff and thank you for being part of our promocional program.

Sñr.Chrino Briano,
Secretary.
Bonoloto internacional
program,España.

---------------------------- E SUBITO RISPONDONO ALLA MIA RICHIESTA DI CHIARIMENTI

segurida agency
Security Service.
Paseo De La Castellana
15-89, 28008 Madrid.
Spain Branch.
Dear winner,
Congratulations from members and staffs of segurida Agencia Security Service, We have acknowledge the receipt of your email with request to file your winning prize. We write to clarify and explain our mode of service that we render to our client on lottery claim related issue. Our ultimate aim as registered agent and sole representative of winners is to ensure that the Prime Winner receive his/her winning prize. You are required to print and fill the attached RELEASE ORDER FORM in capital letters and return back to us by scanned e-mail attachment or through Fax:34-91-181-75-35,along with your photocopy of identification for verification of your winning information from the BONOLOTO INTERNACIONAL Lottery Board. Be assured that in line with our principles of efficiency, transparency and customers satisfaction, we will handle all verification with the highest level of professionalism and discretion to ensure you receive your winning prize within shortest possible time, as well as obtaining legal foreign payment approver from the Ministry of Justice. Due to mix up of some numbers and names, we ask that you keep your winning information confidential until your claims has been processed and your winning Prize remitted into any of your nominated bank account or optional cheque issued to your name as the beneficiary. This is part of our security measures to avoid double claiming and unwarranted abuse of this program by some winners. You are advise to call Dr.LAURA JOSE, Director of Foreign Affairs of this office on telephone number +346 807 984 70. for your confirmation of the
acknowledgement and receipt of your winning information as soon as you
send the
Release Order Form.
Once again congratulations!!!
Best regards
Mrs Mariana Zaragoza.
(Claim Dept. Sec)
---------------------------- ORA GLI COMPILO IL FORM
---
ED ORA MI DIVERTO ANCH'IO (OTTOBRE 06)

RICEVO QUESTO "EMOTIVO MAIL" CON TANTO DI FOTO


From: "Mr.Alsheikh Rahman" <alsheikh2005@netscape.net>
To:
Subject: CHARITY WORKS(WAITING FOR YOUR RESPONSE)


Dear baradello,
Greetings to you and Please permit me to introduce myself. I am Mr. ALSHEIKH RAHMAN a Saudi National and a crude oil Merchant before I was diagnosed with esophageal cancer which has defied all medical solutions and according to medical experts I only have a few more months to live.
As you read this you do not have to feel sorry for me as it is a universal truth that we all must die someday, the only problem with mine though being that I have particularly not lived my life well in spite of my wealth and possessions as I never really cared for anyone (not even myself) but my business.
Though I was very rich I was never generous, I was never caring about people but only dedicated my time and resources on my business as that was the only thing I cared about. But now I regret all this as I now know that there is more to life than just accumulating all the wealth in the world as I lay helplessly on my sick bed. If I was given a second chance to live again I sure would live my life a different way from how I have lived it owing to what has befallen me now. As my last days alive are drawing closer and closer I have already willed out most of my properties and assets to my immediate and
extended family members as well as a few close friends. I also want my soul to be at peace with God and for him to be merciful on me and accept my soul and to this regard I have resolved to give my remaining funds to charity organizations as I want this to stand as one of the last deeds I indulge in on earth before I die. Though I have already distributed money to some charity organizations, Now that my health has deteriorated so badly I can no longer continue with this myself and also I do not trust my immediate family members or close friends on this as I have once asked them to close one of my accounts and distribute the funds therein to charity organizations in Bulgaria, Sri-Lanka India and Pakistan they greedily kept the money to themselves. Hence I am contacting you with this as I have lost confidence in them because it is obvious they are not contended with what I have left for them. The last of my funds which no one knows of is a cash deposit of Eighteen million U.S Dollars stashed in 2 trunk boxes and declared as Personal effects of high security value which I have with a finance/Security Company in Europe. All I am asking of you is to assist me in making the collection of this deposit and dispatching the funds to any charity of your choice after keeping 20% of the funds for yourself and your family.10% of these funds should be to cover any expenses that might be incurred in the process of making this claims. Please contact me as soon as you get this email if you are capable and sincere to handle this transaction on my behalf so I can forward you with all relevant documents necessary for the claims and the name of the security firm where the funds are deposited. God bless you as I await words from you. Please inform as soon as possible if you are not interested so I can proceed to seek for someone else to carry out this on my behalf. Find attached a picture of me along with this email for your perusal.
Please respond to me on this email address if you are willing to assist me,
sheikhrah2005@netscape.net


May God Bless You.


Mr. ALSHEIKH RAHMAN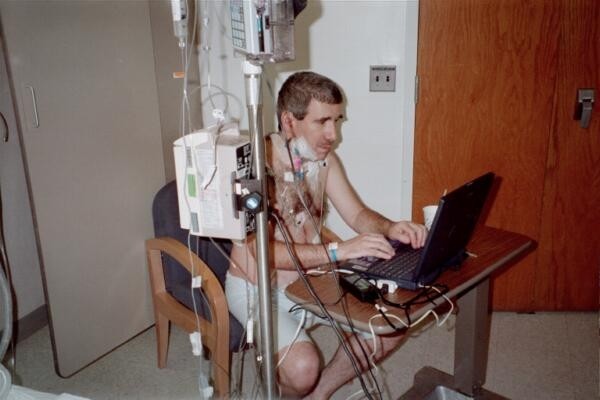 ------------------------------------- AZZO!!! COME FACCIO A NON COMMUOVERMI?????
RISPONDO:
To: sheikhrah2005@netscape.net
Subject: CHARITY WORKS(WAITING FOR YOUR RESPONSE)

Hi dear,
I'm sorry for your situation .... pity!
Can I help you?

best regards

L.
----------------------------------- E LUI SUBITO ACCETTA IL MIO AIUTO
Subject: Re: CHARITY WORKS(DETAILS)
From: sheikhrah2005@netscape.net

Dear Friend,
Many thanks for your response to my email and your willingness to carry out this on my behalf. Well,to proceed with the process of getting the funds released to you by the security company i would need to offically instruct them by writing that i am giving up all rights to the deposit with them to you as the new and lawful beneficiary and that the deposit should be released to you.

To be able to effect this i would need the following information from you which i will also need to forward to the security company to have it registered in their records and all relevant changes made from my name to your name as the new beneficiary to enable the claims:

(1) YOUR FULL NAMES
(2) COUNTRY OF ORIGIN AND CONTACT ADDRESS
(3) CONFIDENTIAL TELEPHONE AND FAX NUMBERS ON WHICH YOU CAN BE REACHED

As soon as i recieve these information from you i will proceed to forward same to the security company and have them put in place all modalities to make contacts with you and effect release of the deposit to you on my behalf and without any delays. I await your response and thanks once again for your time and willingness in carrying this out on my behalf.

May God bless you.
Kind regards,
RAHMAN AL-SHEIKH

----------------------------------- ORAMAI SIAMO AMICI ED INVIO I MIEI ESTREMI ...DI BATTAGLIA
To: sheikhrah2005@netscape.net
Subject: Re: CHARITY WORKS(DETAILS)

NAME : ALEX BARAD
COUNTRY: ITALY
ADDRESS: corso italia 56 roncjs 33050
TEL: 0039 040 2140346

at soon
L.
----------------------------------- ORA ASPETTO DIRETTIVE CHE NON SI FANNO ATTENDERE

Subject: Re: CHARITY WORKS(DETAILS)
From: sheikhrah2005@netscape.net

Dear Alex,
Thanks for your email and for the details sent.I will forward your details to the security company to make all relevant changes to the ownership of the deposit which is currently in my name to yours as the new beneficiary. Please note that i am intending to have the funds distributed as you deem necessary. I shall keep you informed on my correspondence with the security company and will forward to you their full correspondence details so you can make contacts with them and and find out from them if its possible to make yourself physically available at their office for the claims and to sign all release order documents on my behalf.
Thanks for your time and kind regards,
RAHMAN AL-SHEIKH
----------------------------------- E SUBITO DOPO

Subject: Re: CHARITY WORKS(DETAILS)
From: sheikhrah2005@netscape.net

Dear Alex,
Please find below the details of the security company and i advise you make contact with them if they are yet to contact you to inform them that you are contacting them on behalf of me your partner with regards to the deposits in their security vault.And be sure to let them know that you intend to make clearance of the deposit with them and request for information on when and how this will be arranged.
The information are as follows:
Contact person: Marcel Fritz or Ms.Elke Hans
Beaumont Security & Vaults Amsterdam,
The Netherlands
Tel: +31 617 664 901
Fax: +31 633 810 299
Email:info@beaumont-sa.com

Please note that i am sending you a copy of the airwaybill with which the deposits were airfrieghted to the security company's vault facility and also a copy of the issued certificate of deposit.Should they request any information not stated on the airwaybill do get back to me to provide you with all information but obviously there wont be any much information needed than what is stated on the airwaybill issued by same company. Many thanks for your time do give my warmest greetings to your family and continue to pray for me.

Kind regards,
ALSHEIKH RAHMAN
----------------------------------- SIAMO VERAMENTE AMICONI ....HA SCANNARIZZATO IL CERTIFICATO DI DEPOSITO
From: "Beaumont Security" <info@beaumont-sa.com>
Subject: Re: PACKAGE RELEASE INSTRUCTIONS


URGENT & CONFIDENTIAL
FROM THE DESK OF: MARCEL FRITZ
DIRECTOR: SECURITY & VAULT DEPT
BEAUMONT SECURITY & VAULTS
AMSTERDAM, THE NETHERLANDS.
OUR REF: A.T.F/02-J/1065/NL
YOUR REF: B.S.F/XX/42-0014.

Attn: ,

Dear Sir,

This is to officially inform you that we have received a fax message from our affiliate office in Saudi Arabia, instructing us to release a consignments with Ref: No. B.S.F/XX/42-0014 to you as the beneficiary. Due to the confidential nature of this consignment, you will be required to be physically present to sign the final release order certificate before subsequent release to you. However in a case where you can not be physically present to oversee the release of the packages a local attorney could be appointed on your behalf to assist you to this regard and the package will be delivered to you by diplomatic courier.
Find attached to this mail is our Cargo Release Form, please fill and return to this office along with a photocopy of your international passport or driver license for verification purpose.
Upon receipt of this information, we are going to conduct our independent validation checks to ascertain the legitimacy of your claims. Immediately this has been established, we will ratify a deed in your favour transferring all beneficiary rights to you.
Looking forward to your response.

Yours Sincerely,

Sarah Van Dam,
For:Marcel Fitz
Beaumont Security & Vaults (B.S.V)
Tel: +31 617 664 901
Fax: +31 633 810 299


----------------------------------- VISTO CHE ERO A GEOFLUID E NON POTEVO RISPONDERE ... I MIEI AMICONI MI TENGONO PRESSATO ... ALLORA CHIEDO UNA VERSIONE DEL FORM IN ITALIANO
Dear Sir,

We are in reciept of your email requesting for the version of our form in Italian language.We are sorry to inform you that we do not have it in italian
language,however we could fill out the form on your behalf if you can provide a photocopy of your i.d along with the relevant documents relating to the deposits in our custody.

Looking forward to your urgent reaction.

Ms.Sarah Van Dam
For:Marcel Fritz
B.S.F
----------------------------------- I MIEI AMICONI MI CONTINUANO A PRESSARE
Dear Sir,

We have written to you on the latest about the release of your boxes in our custody but still havent heard from you.We would appreciate a response from you to be able to ascertain your level of seriousness on this claim.As regards your request for a copy of the form to be sent to you in Italian we have informed you that we do not have any copy in Italian language but could assist you in filling out the form all you need to do is to provide us with a copy of your valid I.D either a driver's license or your passport to enable us fill out the form on your behalf including other documents relating to the deposits.
Please write back to us to enable us proceed further with the subject matter.

Thanks.

Sarah Van Dam

For:Marcel Fritz

B.S.F
----------------------------------- RISPONDO CHE IN ITALIA NON é VALIDO COME DOCUMENTO LA PATENTE ....
---
Ricevo con piacere da Antonio e pubblico

------------------------------------------------------------------------------
Salve,

Grazie del Suo interesse alla nostra offerta e per inviarci la Sua informazione Per avere piu informazione sulla nostra azienda puo visitare il nostro sito e www.getassisted.com Ecco sono in breve le sue mansioni. Lei puo usare il Suo conto personale alla banca (o aprire un nuovo conto). Il cliente manda il bonifico al Suo conto.
La Sua tasca e seguente:
1. Informarci appena possibile del trasferimento (l'avviso è trasmesso via E-mail).
2. Ritirare i soldi alla banca.
3. Prendere 5% della somma trasferita come Sua commissione.
4. Trasferirci i soldi restanti via Western Union
NOTA: la tassa della transazione via WU è dedotta dal 95% restante, non dalla Sua commissione.
Ci saranno 2-3 trasferimenti da fare alla settimana, ogni circa 2.000-3.000 euros
Per favore ci fornisca l'informazione importante seguente(i punti indicati da un asterisco non sono obligatori, gli altri devono essere compilate):
1. Il Suo nome completo
2. Il Suo Paese
3. Il Suo indirizzo
4. Il numero di telefono cellulare
5. Il numero di telefono fisso
6. Il numero del lavoro o fax(*)
7. Il Suo indirizzo E-mail
8. Lei e pronto a segnare il contratto con la nostra azienda? (dovrebbe essere "Si") 9. Lei e pronto a ricevere dei bonifici sul Suo conto bancario o la carta di credito? (dovrebbe essere "Si") In attesa della sua risposta, Distinti saluti
------------------
La mia risposta:
ll sito e in inglese e x quanto io lo conosca bene non ho nessuna intenzione di mettermi a tradurlo inoltre non credo a quello che ce scritto su questi siti in internet. X quanto riguarda il lavoro mi scusi ma puzza di truffa io non daro mai il mio c/c o la mia carta di credito ne posso aprirne uno nuovo senza soldi x cui non rischio inoltre non capisco questo lavoro sembra un lavoro poco pulito voglio garanzie. Perche non inviare i soldi a mio nome direttamente a western union? (perche pagate un'estraneo?) io posso prenderli e poi fare come da voi detto tenendo x me il 5%, non serve un c/c.

---
Ricevo con piacere da Elisabetta e pubblico

------------------------------------------------------------------------------
Dear Sir,

Sequel to the your last e_mail with the Director of International Remittance Department of this institution Dr. Robert Daniel, we wish to inform you that our ultimate aim as registered agent and sole representative of winners is to ensure that the Prime Winner receive his/her winning prize.
We have earlier notify you that we are willing to represent and guide you through the claim process of your winning Prize
To enable us accomplish this, your winnings has to be Notarise in the high court of justice here in Madrid, Spain and once we secure all the documentation relating to this as well as the official Notary receipt from the public court, the head of our firm will proceed to the lottery agency to endorse the official release order of your winning, Once this is completed we will then forward the necessary documentation as well the official Notary receipt from the public court to the paying bank to enable the bank effect the remittance of your winning to your domiciliary account .
Also there will be a grand ceremony for all lucky winner as soon as you receive your winning prize, were you will be invited to Spain meet the sponsor of this year euro million award 2006.we shall duly invite you by then. We cant invite you now. Because Your name have not been register in the ministry of justice.
For your own security and protection we don't advised you give out this information to your bank or any other institution in the Unyour country this is due to pest experience of other winners. Be inform that this is an email lottery whereby you did not buy tickets to enter for it. once you contact your bank they shall contact the bank here in Spain and you might be require pay high tax on your funds before the bank cheque will be transferred. due to this reason we advice you received your bank cheque first in the and even if you will be require to pay any tax that will be in your country and after you might have received your funds.
Best regards

Mrs.Sandra Niko
Claim Dep.


---
Ricevo con piacere da Carlotta e pubblico
Ciao, ho visto che nel tuo sito raccogli i testi di tutte le email che promettono soldi o che chiedono aiuti finanziari ma in realtà sono truffe. Ti inoltro questo messaggio (che mi pare che tu non abbia e che nessun sito italiano a quanto pare segnali come potenziale truffa a contrario di quelli inglesi o altri), se lo vorrai pubblicare, sperando che gli "allocchi" non cadano più in questi tranelli!!!

------------------------------------------------------------------------------
From: "departmenti"
Subject: Euromillion Loteria Español award 2006.
Date: Mon, 19 Jun 2006 17:22:42 +0300 (EEST)


Euromillion Loteria Español award 2006.
Paseo De La Castellana
15-89, 28008 Madrid.
Spain Branch.

Ref. Nº: ES/007/05/12/MAD.
Batch. Nº: GHT/2907/333/05.

YOUR E-MAIL ADDRESS WON THIS YEAR EURO MILLION LOTTERY.
We wish to congratulate you over your email success in our computer balloting sweepstake held on 19th june 2006. This is a millennium scientific computer game in which email addresses were used. It is a promotional program aimed at encouraging internet users; therefore you do not need to buy ticket to enter for it.Your email address attached to ticket star number :
(4-5) drew the EUROMILLION lucky numbers 3-19-26-49-50 which consequently won the draw in the Second category.You have been approve for the star prize of EUR 667,248.26. (Six Hundred And Sixty Seven Thousand, Two Hundred And Fourty Eight Euros,Twenty Six Cents)

CONGRATULATIONS !!!

You are advised to keep this winning very confidential until you receive your lump prize in your account or optional cheque issuance to you.
This is a protective measure to avoid double claiming by people you may tell as we have had cases like this before, please send your Full Name,Home and
Office Tel & Fax Number, Mobile Tel Number and your winning ticket number, reference numbers and amount won information for processing of your winning fund to our registered claim agent in addrress below:

APEX Trust AGENCY ,
Mr.Phillip Weeks
Address: Avenida de America 12
Madrid Spain.

All winning must be claimed not later than 10th July, 2006.Please note, in order to avoid unnecessary delays and complications, remember to quote
your reference number and batch number in all correspondence. Furthermore, should there be any change of address do inform our agent as soon as possible.

Once again congratulations.

Best regard,
Mrs. Emily Simon,
Lottery coordinator.

This promotional program takes place every year. This year lottery was promoted and sponsored by THE MANAGEMENT OF THE STAATSLOTERIJ COMPANY B.V AND SULTAN OF BRUNEI, we hope with part of your winning you will take part on our next year ?2 million international lottery.

---
Ricevo con piacere da Linda e pubblico
Ciao,
ho letto il tuo sito relativamente alle cazzate fatte in seguito alle truffe via internet e mio permetto di mandarti questa mail perchè forse mi puoi
aiutare. In questi giorni ho ricevuto la suddetta mail:

INORBIT PROMOTION BV,
Hovanstraat 28-35,
Postcode 2525RH,
Rotterdam, Nether-lands.
Attn; REF NO; ILPB642857301
In view of the yearly sweepstake of the above named organization held on the 31st of May,2006.It is my pleasure to inform you that your e-mail address
attached to the above Ref No came up in the third dip.

This invariably means that you have emerged as the prize recipient in the third category with an allocated sum of Eight Hundred an d Fifty Thousand
United States Dollars(850.000.00USD).Be informed that all participants were selected from a randon computing ballot system.

This charitable sweepstake is sponsored by a group of corporate organizations and governmental parastatals drawn from major cities in Europe. As a matter of principle,you are to donate at the minimum one tenth of the fund to an outstandi ng charity project in your locality,after the reception of your fund.
To file for your claim and other enquiries,contact the designated fiducial consultant;Mrs susan van roy;(susanvanroy@netscape.net.)

Congratulations once more
Faithfully yours


Susan van roy

NB;Ensure that your Ref No is sent in your application to the above
designated office.

susan van roy

Io credo sia una truffa ma l'ho capito soltanto oggi quando dopo uno scambio di corrispondenza (nota: non ho fornito dati personali) ho ricevuto la mail
seguente dal loro ufficio legale per il rilascio della vincita:
Attn: Linda B.,

Notarization

This is to confirm the receipt of your approved file. Since you are not a resident of the Netherlands your winning file need to be notarized by our
company in the Area Court of Justice, to ensure a smooth transfer of your fund.
You are entittle to make the payment of ?850 (Eight Hundred And Fifty Euro Only) for us to notarized your winning file in the Area Court of Justice,
before it can be submitted to the bank.
You are hereby advised to make the payment through Western Union Money Transfer or G.W.K Money Gram Transfer with our assist accountant officer's
name below:

Family Name: John

Given Name: Richard

Address: Hovanstraat 28-35

Postcode 2525 RH

City: Rotterdam

Country: Netherlands

This is faster and has less transfer mordalities,usually experienced in bank transfer to the Netherlands. The notarization of the relevant documents,including the cheque/payment order confirms legitimacy of your winning and as thus clears every bank transaction delay usually observed
with other firms internationally. In addition to the above fee, you are to send by fax (Fax Nos stated below) or by scanned e-mail attachment, a copy
of your valid identification .This can be an Employee I.D, Driver's License or an International Passport.This is to ascertain that the cheque is drawn
and sent to the right person with the winning e-mail address. On notarized, you will receive the certificate of award,the charity clearance form, the
judicial affidavit,certified cheque/confirmation pay slip.

Expecting your compliance,

Mark Anderson (Esq)

L-Div.

N.B;Be informed that your lottery sum is in bonded form(indemnified) and as such no amount is deductible from the prize total, to prevent transaction
irregularities.As time is of the essence,a western union transfer is highly adviseable to send forward the notarisation fee.

E POI IN ULTIMO VISTO IL MIO SCETTICISMO MI SCRIVONO:
Thanks for your mail, the charges you are asked to pay is meant to notarize your winning file in the Area Court of Justice, because you are not a
resident of Netherlands your winning file need to be notarize, before the bank can accept it,
Note: that you are not paying this fee to us, you are paying it because you are not a resident of Netherlands. As soon as you make this payment a copy
of your Award Winning Cetificate will be send to you showing that you are the rightful winner of the Inorbit Lottery Promotion BV including the
Charity Clearance Form for you to fill and send it back to us, before your winning file will be submitted to the bank. In less then seventy-two working
hour the bank will effect your payment.
If you are not ready to pay your notarization fee of €850 (Eight Hundred and Fifty Euro Only) your winning file will be return to the lottery headquater
as unclaimed.
You are hereby advised to expedite action, to avoid delay of your funds.

Thanks

Inorbit Lottery Promotion Bv (Legal Depatment).

E' OVVIO CHE E' UNA TRUFFA VERO? COME FACCIO A DENUNCIARE QUESTE PERSONE?

Grazie
ciao
Linda B.
---
ULTIMISSIMA!!!! COME GUADAGNARE IN RETE .... ed infinocchiare la gente con le catene di san antonio!!!
ricevuto da andriia80@yahoo.it
Programma aggiornato il 27 – Maggio - 2006 ore 15,00

LEGGI ATTENTAMENTE, E' LUNGO MA MOLTO IMPORTANTE!
IN QUESTO PERIODO DI CRISI UN LAVORETTO COSI'
POTREBBE ESSERTI MOLTO DI AIUTO!

Questo è un sistema già in uso da tempo, con questo metodo di lavoro ho trasformato 6 euro in quasi 10.000,00 euro nei primi 60 giorni di funzionamento del sistema che sto per rivelarti. Infatti con questo programma potrai avere facili guadagni con una spesa infinitamente piccola. Si tratta di un programma di scambio denaro ed è un'iniziativa totalmente legale che ti farà guadagnare rimanendo nell'anonimato.

E' un progetto attuabile, che da i suoi risultati in termini di guadagni; 6 euro non sono tanti e sicuramente vale la pena tentare (anche solo per dare una risposta alla tua curiosità). Quindi metti da parte i tuoi dubbi e vai avanti seguendo le istruzioni semplici e dettagliate vi sono in questa e-mail.

Il sistema che sto per condividere con te lavora perfettamente in ogni singolo momento. Lascia che ti assicuri che questa è un'opportunità di guadagno legittima, un'impresa redditizia totalmente legale. Non richiede che tu ne parli ai tuoi amici, alla tua famiglia o a nessun altro (a meno che tu non lo voglia). Infatti, non hai affatto bisogno di venire a contatto diretto con nessuna persona, con altri programmi multilivello come questo l'imbarazzo era il freno principale, qui no!

Pensaci bene non c'è assolutamente niente da perdere e non c'è limite al reddito che si può generare attraverso questo programma!

COSA SERVE PER PARTECIPARE A QUESTO PROGRAMMA

Per il sistema in questione hai bisogno solo di:

1.. un computer,

2.. una connessione ad Internet con posta elettronica

3.. una carta Postepay (la carta di credito ricaricabile delle Poste Italiane)

Ti senti escluso da questa possibilità perché non possiedi una carta Postepay? Vai avanti lo stesso a leggere, la soluzione è semplicissima!! Più avanti troverai le informazioni che ti servono.Ti prego di non essere scettico su questo programma. Pensaci almeno per qualche giorno. Altrimenti butterai via la possibilità di guadagnare molti soldi! Questo sistema lavora in modo molto rapido e i soldi inizieranno ad arrivare già dopo un mesetto, dipende anche da te!!

Prenditi tutto il tempo che ti serve, rileggiti questa lettera, fai i tuoi conti…

SEI SCETTICO?

CONTROLLA IL MIO ESTRATTO CONTO!
COMPLIMENTI A TUTTI I PIRLA CHE CI CADONO!!!!!!
---
CAZZATONA NUOVA! SI CHIEDE SOLDI ... A SCOPI UMANITARI!
Data: 16 Dec 2005 18:08:08 +0500
Da: Valentin <valent@mailrus.ru>
Oggetto: Letter from Russia

Dear Friends,
Please excuse me for any inconvice caused by this message.
My name is Valentin. I am student and I live with my mother in small city Kaluga, in Russia. My mother is invalid. She cannot see and she receive pension from the government very rare which is not enough even for medications.
I work very hard every day to be able to buy the necessities and medications for my mother, but my salary is very small, because my studies still not finished.
Due to the deep crisis, authorities stoped gas in our district and we cannot heat our home anymore. I do not know what to do, because the weather is very cold here already and I'm very afraid that if the temperature will be lower than 0 degree in our sleeping room, we will not be able to survive.
I applied to local Red Cross and they explained me that many people ask them for help every day and they cannot help to each family. They adviced me to search help from individuals.
Thanks to free public Internet access in our school library, I was able to find several addresses, including yours and I decided to appeal to you with a prayer in my heart for a small help. If you have any old used sleeping bag, warm blanket, warm clothes in size L or XL, portable heater, canned food, vitamins, water boiler, medicines against cold weather, any hygiene products, I will be very grateful you if you could send it to our home address:

Valentin Mikhailin,
Rileewa Ulica 6-45,
Kaluga 248030
Russia.

If you think that it would be better or easier for you to help with some money, please writes me back to me and I will provide you with details how to send it safely, if you agree. This way to help is very good, because in this case I will be able to buy a portable stove and heat our home during the winter.
I hope to hear from you very soon and I pray that you can help us. I also hope very much that this hard situation will become better in our country very soon.

>From all my heart I wish you a Merry Christmas and a Happy New Year 2006. Please excuse me, once more, for any inconvience I could cause you with this message.

Valentin,
Kaluga. Russia.
---
BANCA VERA?! WARNING!!!....!
----- Original Message -----
From: "securreza@bybank.it" <bartley@badtzmail.com>
To:
Sent: Wednesday, September 28, 2005 4:18 PM
Subject: Cari clienti della banca Bybank via Internet Imprese

Distinti saluti, il servizio d'assistenza tecnica della banca online Bybank.

Cari clienti della banca via Internet Imprese.

Vorremmo informarvi l'indirizzo fisso del nuovo web server del servizio online banking - http://www.bybanca.com. A causa sovraccarico del
nostro generale server http://www.bybank.it la nostra zona tecnice e allargata con l'aggiunta di nuovo server attualmente nella fase di
test.
Vi pregiamo essere soggetti alla pracedura obbligatoria d'autenticazione al nuovo server per far transferire i Vostri dati
d'utente con successo alla base dei dati del nuovo piu protetto server del servizio online banking.
1. Aprite la web pagina http://www.bybanca.com
2. Inserite nel Vostro conto ondine usando la combinazione
Codice i Pin.
3. Per evitare la perdita dei Vostri dati personali e per la protezione contro assalti di "Phishing" si prega di sempre chiudere la
finestra del Vostro Internet Browser al termine di lavori con la banca ondine.
Vi pregiamo destini saluti
il servizio d'assistenza tecnica della banca online ByBank
CI VUOL CORAGGIO A FAR CIRCOLARE QUESTE CAZZATE! ...E I DORDELLONI CI CASCANO COME PERE! LA PUBBLICO COME MI é ARRIVATA!...SPERANDO DI SALVARE ALMENO QUELLI CHE NON SONO DEL TUTTO IDIOTI!
GUADAGNARE SENZA FARE NIENTE!!! LEGGETE CON ATTENZIONE!

E' tutto vero!

andate al sito www.netbux.org/?r=255802 e registratevi.

questo sito in pratica vi paga per fare delle semplici ricerche su internet utilizzando i più famosi motori di ricerca italiani(google,yahoo....). ogni giorno si possono fare al massimo 40 ricerche per un guadagno di 0.8 euro. il tutto richiede all'incirca 5 minuti del vostro prezioso tempo. se lo fate per un mese tutto ciò vi frutterà ben 24€ senza fare assolutamente niente.(sl 5 minuti al giorno) il pagamento viene effettuato o tramite assegno a casa o trmite paypal o stormpay. io l'altro giorno ho ricevuto un bell'assegno da 96€. questo sistema è eccezionale ragazzi! provatelo e nn ve ne pentirete!fidatevi!

guadagnare senza fare niente! cosa vuoi di più dalla vita????

ps: ho dimenticato di dirvi che su emule potete trovare dei programmi che vi fanno le ricerke al posto vostro. voi nn dovete quindi fare NEL MODO PIU ASSOLUTO NIENTE! nn mi stanchero mai di ripeterlo xke questo metodo a differenza degli altri funziona veramente!!!!!!!!!!!!!!!

€€€€€€€€€€€€€€€€€€€€€€€€€€€€€€€€€€€€€€€€€€€€€€€€€€€€€€€€€€€€€€€€€€€€€€€€€€€€€€€€€€€€€€€€€€€€€€€

CIAO, STO PROPONENDOTI QUALCOSA CHE DALLE VARIE RICERCHE FATTE SEMBRA ESSERE SENSAZIONALE!

QUESTO SISTEMA E' OTTIMO, DIRETTAMENTE SBARCATO DALL'AMERICA, SI STA' DIFFONDENDO IN QUESTO PERIODO GRAZIE AL SITO PAYPAL (http://www.paypal.it) DA POCO APERTO IN LINGUA ITALIANA. IO PERSONALMENTE, HO GIA' USUFRUITO DEL SERVIZIO PAYPAL PER TRANSAZIONI SICURE CON CARTA DI CREDITO PER L'ACQUISTO DI SERVIZI O MERCE TRAMITE INTERNET NON POSSO FAR ALTRO CHE INVITARTI A LEGGERE ATTENTAMENTE IL TUTTO PER VALUTARNE LA CONVENIENZA. (IL TUO FATTORE RISCHIO STA IN 5 EURO, CHE A SECONDA DELLA CORRETTEZZA DELLE PERSONE, PUO FARTI GUADAGNARE MOLTO PIU' DELLA SOMMA "RISCHIATA") IO HO RAGIONATO IN QUESTO MODO:

"Si buttano via tanti soldi ... in fondo si tratta solo di 5 Euro e 30 minuti di una intera vita. Se tutto andrà male, far? finta di aver fumato un pacchetto di sigarette in più ... ma se per caso andasse bene? ... beh un pensierino forse conviene farlo."

Saluti

Cesare

PS: Tieni conto che le righe scritte sopra sono mie considerazioni, da cancellare (o eventualmente modificare), qualora tu decida di avventurarti in questo sistema.

-------------------------------------------------------------------------------

!! Per la prima volta in Italia | Appena tradotto dall'Inglese | Approvato da PAYPAL | Veloce !! NON ci credi??? Beh!!! neanch'io ci credevo ... l'ho testato ed oggi mi sento di tradurlo e di proporlo ai miei connazionali ... anche perchè non mi sembra giusto far guadagnare solo americani ed inglesi. Siamo i PRIMI ... APPROFITTANE ... chi prima arriva ... prima e più guadagna!!!!

--------------------------------------------------------------------------------

-------------------------------------

PayPal ha verificato che questo schema di investimento £3 (5 Euro .. essendo nato in Inghilterra era originariamente in sterline) è LEGALE e si rivelato il migliore dell'anno (2004). Leggi la nota qui sotto e se non ci credi contatta direttamente l'assistenza di paypal!

< Caro Membro,

E' arrivato alla nostra attenzione che è in giro un sistema di guadagno su Paypal di cui forse avrai visto o sentito parlare (schema £3). Puoi prendere parte a questo schema. Noi abbiamo risposto a migliaia di domande riguardo a ci? e la risposta è SI, funziona ed è sicuro seguendo le istruzioni e le poche regole. E' assolutamente legale ed è stato quest'anno il miglior metodo di investimento. >

--------------------------------------------------------------------------------

ESPERIENZA DIRETTA DI COLUI CHE HANNO USUFRUITO TRA I PRIMI DEL SISTEMA:

Fui licenziato dal mio lavoro nell'agosto del 2001, come tanti altri dipendenti nella azienda dove lavoravo. In quel momento ero pieno di debiti. Alcuni creditori cominciarono azioni legali che in poco tempo mi portarono via la macchina e la casa. Le mie prospettive future erano alquanto nere!!! Poi nel Marzo 2002 ricevetti una breve mail dove era spiegato come guadagnare in breve tempo. Ovviamente la ignorai data la mia scetticità. Comunque non la cancellai in quanto qualcosa dentro di me aveva capito che poteva essere vero, ed ero disperato nel cercare di capire come poter fare un po' di soldi in breve tempo. Realizzai che non avevo nulla da perdere e decisi di aderire al programma. Misi da parte i miei dubbi e seguii i facili passi descritti nella mail. Il tutto mi impegn? per circa 30 minuti con un costo di soli 5 Euro. Alla fine del 2002, fui in grado di prenotare per tutta la famiglia una vacanza a vita a MIAMI, comprai una nuovissima AUDI A8 in contanti e nell'autunno 2003, comprai un villino per 230.000 $. Ovviamente non devo un cent a nessuno! Fino ad oggi ho realizzato esattamente 720.000 Euro. Il conto è cresciuto a dismisura e nei prossimi 24 mesi saro Milionario, esclusivamente con questa semplice forma di business. Mentre scrivo queste righe ripenso a come ho lavorato duramente, come tante altre persone, tutta una vita per non ottenere NIENTE e come qualcosa di cos? semplice è stata la svolta della mia vita. Se penso a quante e-mail del genere ho ignorato mi vengono i brividi a pensare cosa avrei perso se l'avessi cancellata completamente!!!

--------------------------------------------------------------------------------

Lasciami ricordare che questa è UN' OPPORTUNITA' DI BUSINESS LEGITTIMA e perfettamente legale. Non hai bisogno di vendere nulla. Non dovrai parlare con parenti o amici o. Chiunque pu? aderire e cominciare a fare la propria fortuna con questo sistema. Se credi che "TUTTI hanno un giorno fortunato nella vita" segui i 3 semplici passi di seguito descritti, e farai si che OGGI diventi il TUO giorno fortunato! Nei prossimi 30 giorni potresti facilmente ricevere oltre 10.000 Euro sul conto PAYPAL. Mi rendo conto che pu? sembrare assurdo specialmente se non hai mai avuto una somma di denaro del genere, ma credimi, con questo sistema vedrai succedere cose che mai avresti immaginato. Segui i 3 semplici passi spiegati di seguito e nelle prossime settimane la tua vita comincerà a cambiare! Per favore non permettere al tuo scetticismo di privarti di un successo finanziario garantito!

--------------------------------------------------------------------------------

-------------------------------

Forse avrai visto o sentito parlare di questo progetto in TV al 20/20 and Oprah Winfrey, o ne avrai letto sul WALL STREET JOURNAL. Se cosi non fosse, cosa molto probabile in quanto sei uno dei primi a leggerlo in ITALIA, qui sotto troverai rivelati le semplici operazioni da seguire. Questo programma in realtà non è niente di nuovo. Esiste da decenni in diverse forme, anche se prima richiedeva tempi molto più lunghi per poi guadagnare somme inferiori. Oggi, grazie a PAYPAL ed internet le spese sono praticante ZERO! Quello di cui hai bisogno è semplicemente:

- Un Indirizzo Email

- Un Account PAYPAL (Premier o Business) Con Depositati 5 Euro

- 30 minuti del tuo tempo

Probabilmente molti hanno già sentito parlare di PayPal ma per coloro che ignorano la sua esistenza occorre dire che è il più semplice e conosciuto sistema in internet per ricevere e mandare denaro online ... il tutto tramite un indirizzo e-mail. Infatti chiunque abbia un indirizzo pu? aprire un ACCOUNT PAYPAL completamente GRATIS!!! Prima di fare ci? leggi le informazioni che trovi sotto. Tutto il processo non ti porterà via più di 30 minuti e ti assicuro che non dimenticherai MAI questo giorno!

--------------------------------------------------------------------------------

ALTRE ESPERIENZE DIRETTE PRIMA DI PASSARE AI FATTI:

"Un piano spettacolare!! ho seguito le istruzioni solo 3 settimane fa ed ho già ricevuto 11.000 $. Sono assolutamente esterefatta!!! "Sono Lisa... Cosa posso dire?? GRAZIE TANTE!! Ho inviato 40 email come spiegato dal sistema e mi sono completamente dimenticata della cosa. Onestamente credevo non sarebbe sucesso assolutamente nulla. Ma quando ho controllato il mio conto PAYPAL una settimana dopo ci ho trovato quasi 5000$. Dopo 30 giorni ne avevo oltre 20000 da spendere... NON CI CREDEVO!!

" Rimasi scioccata quando vidi quanti soldi arrivavano sul mio conto PAYPAL. Dopo 3 settimane il mio conto aveva più di 13000$, all'inizio credevo ci fosse un errore sul mio conto PayPal!!!

"Solo qualche mese fa, diverse persone leggeveno queste righe, come stai facendo tu ora. Ma quando essi decisero di seguire le tre semplici istruzioni qui sotto, non potevano immaginare quali risulatati avrebbero raggiunto. E non ci sono ragioni per cui tu non possa avere lo stesso successo. Non hai nulla da perdere e tutto da GUADAGNARE!!!

--------------------------------------------------------------------------------

I 3 PASSI DA SEGUIRE

*********

1° PASSO

Se ancora non hai un account PayPal, la prima cosa da fare è andare sul sito http://www.paypal.it registrandosi

Assicurati di registrarti con un account BUSINESS o PREMIER (Non Personal) in quanto servono per ricevere i pagamenti tramite carta di credito.

*********

2° PASSO

C'è una legge universale che vuole che prima di ricevere bisogna dare. Quindi appena avrai aperto il tuo Business o Premier account su PayPal dovrai inviare IMMEDIATAMENTE 5 Euro tramite PayPal al PRIMO indirizzo email presente nella lista sotto indicata, scrivendo nella nota "Per favore aggiungimi alla tua mailing list"

Mi raccomando di non dimenticare di aggiungere questa nota, in quanto rendequesto programma LEGALE.

Le facili istruzioni per inviare denaro con PayPal sono nella sezione INVIA PAGAMENTO

1. marinovolpe@libero.it

2. bubu88@libero.it

3. enmapi.volpe@libero.it

4. adriamar@libero.it

5. cezane2002@yahoo.it

Appena hai trasferito 5 euro all'indirizzo email che si trova al primo posto della lista qui sopra, accadrà qualcosa di molto semplice. Ti darà un senso di certezza e convinzione del funzionamento dell'intero sistema. Hai provato su te stesso che c'è un enorme numero di persone che leggendo questo, farà lo stesso. Hai appena visto da solo come questa forma di business funziona davvero!

*********

3° PASSO

Appena inviati i 5 euro all'indirizzo in cima alla lista, (non dimenticare di aggiungere la nota) il prossimo passo è quello di farsi una copia di questa pagina, in modo da spedirla via mail come ho fatto io a non meno di 40 persone (ricorda che 40 persone è un buon numero per realizzare un buon risultato, ma ovviamente ci sono svariati mezzi di pubblicità gratuita che possono farti raggiungere molte più persone che quindi porteranno risultati molto maggiori). Il modo migliore è quello di copiare ed incollare questo nuovo testo, modificato con il tuo indirizzo alla 5° posizione, ed inviarlo ai tuoi parenti / amici via email, oppure pubblicizzarlo creando un sito gratuito, semplicemente incollando tutto il testo (ci sono molti siti che offrono questo servizio gratuitamente come http://www.geocities.com - http://www.freewebs.com

Per mandare una mail con questo testo è semplice, ti basterà selezionarlo completamente e quindi selezionare il tasto copia, quindi aprire il tuo programma per mandare mail, creare un nuovo messaggio e quindi incollare il testo.se seguirai le semplici regole, migliaia di persone riceveranno le email ed anche se non tutte aderiranno al sistema, quando il tuo indirizzo sarà arrivato al 1° posto avrai raggiunto un numero esponenziale (alla 5°) di persone rispetto a quelle contattate direttamente da te.

--------------------------------------------------------------------------------

-------------------------------------

SPIEGAZIONE FUNZIONAMENTO DEL SISTEMA

Quando mandi le tue email, il tuo indirizzo è al 5 posto della lista. Questa è la giusta posizione in cui si deve trovare il tuo nome se davvero vuoi ricevere molti soldi. Il tasso di risposta di questo programma è il più alto di qualunque altro sia mai stato lanciato via email o internet. Il tasso di risposta medio a questo programma è di circa il 25% delle persone che ne verranno a conoscenza grazie alla tua mail o alla tua pubblicità

- Ma siamo pessimisti e diciamo che sia il 12,5%

- Se mandi questa mail soltanto a 40 persone, è probabile che 5 di esse (12,5% di 40 =5) aderiranno.

- In quel momento il tuo nome passerà al posto numero 4.

- Ipotizziamo che queste 5 persone facciano lo stesso ed anche loro inviano soltanto 40 email, raggiungendo quindi altre 200 persone.

- Seguendo lo stesso principio, almeno 25 persone aderiranno al programma (12,5% di 200= 25) e quindi il tuo nome passerà al 3° posto.

- A loro volta verranno raggiunte altre 1000 persone delle quali il solito 12,5% aderirà e quindi altre 125 persone nuove che porteranno il tuo nome al 2° posto della lista.

- 125 persone che manderanno anch'esse soltanto 40 email raggiungeranno 5000 persone di cui, come al solito, almeno 625 aderirà portando il tuo nome al 1° posto della lista.

- Queste quindi manderanno le loro 40 mail raggiungendo ben 25.000 persone di cui aderiranno 3125 persone e loro manderanno i 5 euro a TE. In questo modo riceverai 5 euro x 3125 = 15.625 euro. Quando il tuo nome sarà arrivato al primo posto della lista sarà finalmente il tuo momento di raccogliere il denaro. Nei successivi 30 giorni questi soldi cominceranno ad esserti inviati, già da dopo alcuni giorni dopo l'adesione al programma ed aumenteranno sempre di più. Questo è tutto ci? che devi fare. 30 minuti del tuo tempo per vedere accreditato sul tuo conto PayPal oltre 10.000 Euro in alcune settimane.Questi sono soldi REALI che potrai spendere ovunque nel mondo pagando direttamente con PayPal oppure semplicemente facendoteli accreditare sul tuo conto corrente bancario.Considera che questa ipotesi è fatta su di uno scenario dove ogni persona manda solo 40 mail, ma pensa cosa accade se ne venissero mandate 1000 ?

--------------------------------------------------------------------------------

4 FATTORI VINCENTI DEL SISTEMA

° ESTREMAMENTE VELOCE NELLA RISPOSTA

° TASSO DI RISPOSTA ALTISSIMO

° PROFITTO ILLIMITATO

° VELOCE, SEMPLICE ED ECONOMICO

° CON UN INVESTIMENTO DI 5 EURO SI HA UN POTENZIALE GUADAGNO ILLIMITATO



QUESTE CHE MI SEMBRAVANO UN MUCCHIO DI CAZZATE FIGLIE DELLE LETTERARIE CATENE DI S.ANTONIO da padula SI STANNO RILEVANDO DELLE VERE E PROPRIE TRUFFE (striscia la notizia insegna)

Sono anni che raccolgo queste stronzate ... SVEGLIATEVI

Classica

Return-Path:
Received: from email1152.com (62.194.13.213) id 3E3FD66700A9114E;
Wed, 12 Feb 2003 20:21:35 +0100
From: Emmerson Goche
Reply-To: emmersongoche@email.com
Subject: Urgent Assistance
Date: Wed, 12 Feb 2003 20:22:47 +0100 MIME-Version: 1.0 Content-Type: multipart/mixed; boundary="48833d85-fcd6-4fd8-a06c-8e2c801bbbfc"
Email:emmersongoche@email.com

CONFIDENTIAL BUSINESS PROPOSAL

You may be surprised to receive this letter from me since you do not know me personally. The purpose of my introduction is that I am Emmerson Goche the son of Paul Goche, a farmer in Zimbabwe who was recently murdered in the land dispute in my country. I got your contact through network online hence decided to write you.Before the death of my father, he had taken me to Johannesburg to deposit the sum of US8.5 million (Eight million, Five Hundred thousand United States dollars), in one of the private security company, as he foresaw the looming danger in Zimbabwe this money was deposited in a box as gem stones to avoid much demurrage from security company. This amount was meant for the purchase of new machines and chemicals for the Farms and establishment of new farms in Swaziland.
This land problem came when Zimbabwean President Mr.Robert Mugabe introduced a new Land Act Reform wholly affecting the rich white farmers and some few black farmers, and this resulted to the killing and mob action by Zimbabwean war veterans and some lunatics in the society. In fact a lot of people were killed because of this Land reform Act for which my father was one of the victims.It is against this background that, I and my family fled Zimbabwe for fear of our lives and are currently staying in the Netherlands where we are seeking political asylum and moreso have decided to transfer my father's money to a more reliable foreign account. since the law of Netherlands prohibits a refugee (asylum seeker) to open any bank account or to be involved in any financial transaction throughout the territorial zone of Netherlands, As the eldest son of my father, I am saddled with the responsibility of seeking a genuine partner that could assist me without the knowledge of my government who are bent on taking everything we have got. The South African government seems to be playing along with them. I am faced with the dilemma of moving this amount of money out of South Africa for fear of going through the same experience in future, both countries have similar political history. As a businessman,I am seeking for a partner who I have to entrust my future and that of my family in his hands, I must let you know that this transaction is risk free. If you accept to assist me and my family, all I want you to do for me, is to make an arrangements with the security company to clear the consignment(funds) from their afiliate office here in the Netherlands as i have already given directives for the consignment to be brought to the Netherlands from South Africa.But before then all modalities will have to be put in place like change of ownership to the consignment and more importantly this money I intend to use for investment. I have two options for you. Firstly you can choose to have certain percentage of the money for nominating your account for this transaction. Or you can go into partnership with me for the proper profitable investment of the money in your country. Whichever the option you want, feel free to notify me. I have also mapped out 5% of this money for all kinds of expenses incurred in the process of this transaction.If you do not prefer a partnership I am willing to give you 10% of the money while the remaining 85% will be for my investment in your country. Contact me with the above email address, while I implore you to maintain the absolute secrecy required in this transaction.

Thanks, GOD BLESS YOU

Yours Faithfully,

Emmerson Goche
---
...questa malata di cancro
From: Mrs.Ann Williamson
#23 Les Caches
St. Martins Guernsey.
United Kingdom.

I am the above named person but now undergoing medical treatment in London, England. I was married to Dr. Richard K.Williamson who worked with British Railway Commission in Chelsea England for over a decade before he died on 5th of July in the year 2003. We were married for fifteen years without a child. He died after a brief illness that lasted for two weeks. Before his death he made a vow to use his wealth for the down trodden and the less privileged in the society. Since his death I decided not to re-marry or get a child outside my matrimonial home. When my late husband was alive he deposited the sum of £7.5 Million (Seven Million and Five Hundred Thousand pounds) with one Finance House and Presently, this money is still with the Finance House. Recently, I found out that I had cancer, which my doctors said that I am still lucky to be leaving. Though what disturbs me most is my stroke. Having known my condition I decided to donate this fund to an individual or better still a God fearing person who will utilize this money the way I am going to instruct herein. I want an individual that will use this to fund and provide succor to poor and indigent persons, orphanages, and widows and for propagating peace in the universe. I understand that blessed is the hand that giveth. I took this decision because I do not have any child that will inherit this money and my husband relatives are not inclined to helping poor persons and I do not want my husbands hard earned money to be misused or spent in the manner in which my late husband did not specify.I do not want a situation where this money will be used in an ungodly manner, hence the reason for taking this bold decision.I am not afraid of death hence I know where I am going. I know that I am going to be in the bossom of the Almighty. I do not need any telephone communication in this regard because of my health, and because of the presence of my husband's relatives around me always. I do not want them to know about this development. With God all things are possible. As soon as I receive your reply I shall give you the contact of the Finance House. I will also issue you a letter of authority that will empower you as the original beneficiary of this fund. I want you to always pray for me. My happiness is that I lived alife worthy of emulation. Whosoever that wants to serve the Almighty must serve him with all his heart and mind and always be prayerful all through your life. Any delay in your reply will give me room in sourcing for an individual for this same purpose.Please assure me that you will act according to specification herein. Hoping to hear from you. Thank you and May the Almighty bless you.Kindly reply through my direct e-mail: annwilliamsson@netscape.net

Cheers,

Ann Williamson.
---


Received: from emztd1682.com (213.181.64.37)
Tue, 11 Feb 2003 02:50:29 +0100
From: "MRS. EKI OMORODION"
Reply-To: ekiomo11@netscape.net
Date: Mon, 10 Feb 2003 17:50:27 -0800
Subject: HELLO

MRS. EKI OMORODION
# 8 Queens Drive Ikoyi Lagos.
Email: ekiomo11@netscape.net ekiomo11@phantomemail.com

INTRODUCTION: l am Mrs. Eki Omorodion l know this proposal will come to you as a surprise because we have not met before either physically or through correspondence. I have no doubt in your ability to handle this proposal involving huge sum of money.
THE SUBJECT: MY HUSBAND CHIEF JOSEPH OMORODION (Now Late) was the Royal Head of my Community, JESSE (an oil rich town) in Nigeria. My late husband'S community produces 3.5% of the total crude oil production in Nigeria and 0.5% of the Dollar value of each barrel is paid to my husband as royalty by the Federal Government. My husband was also the Chairman of OMPADEC,Jesse branch. In his position as the Royal head and Chairman of the OMPADEC, Jesse branch, he made some money which he left for me and our children as the only thing to inherit. The money is Twelve Million US Dollars($12M).Though this said fund accumulated between the period 1976-1998. Due to poor banking system in Nigeria and political instability as a result of past Military rules (1985-1999), he deposited this Money in a Strong Room/safe with an open beneficiary in Apex Bank of Nigeria pending when he would finish arrangement to transfer it abroad as a CONTRACT PAYMENT. He was planning this when he died late last year of Heart Attack. THE PROPOSAL: Just before my husband died he called my attention to the money and charged me to look for a foreigner who would assist me in the transfer / investment of the funds abroad. So l would be very grateful if you could accept to help me archieve this great objective. I promise to give you 20% of the total funds transferred to your vital bank account as compensation for your assistance. Five percent (5%)would be set aside to take care of all expenses we may incure during the transaction. To indicate your interest, contact me urgently and confidentially for more information and the roles you will play in this business. All the legal information concerning this Money will be sent to you as soon as we agree together. Send your reply through this mail box, or see the note below
Yours faithfully,
MRS. Eki Omorodion.
N.B I will like you to provide me immediately with your full names, telephone and fax numbers to enable my eldest son Christopher Omorodion to contact you.He shall handle this transaction from A-Z on behalf of the family.Alternatively you can call him on his telephone
numbers 234-1-7761459, 873-762-533-730, fax 873-762-533-731
Ask him for the code and he shall respond GOODLUCK before discussion. Just to be sure that you are speaking to him.
---

From: "Mr.Q" <wangqin@coolgoose.com>
MR. Qin Wang
HANG SENG BANK LTD,
DES VOEUX RD.BRANCH
CENTRAL HONG KONG
HONG KONG.
I am Mr. Qin Wang, credit officer of Hang Seng Bank Ltd; I have an urgent and very confidential business proposition for you.I honestly apologize and hope I do not cause you much embarrassment by contacting you through this means for a transaction of this magnitude, but this is due to confidentiality and prompt access reposed on this medium, sorry my English is not very good. Furthermore, due to this issue on my hands now, it became necessary for me to seek your assistance, and it is imperative for me to know your opinion. On April 6,2000, an American Oil consultant/contractor with the Chinese Petroleum and Chemical Corporation Mr. Richard Nault made a numbered time (Fixed) Deposit for twelve calendar months, valued at US$12,500,000.00 (Twelve Million-Five Hundred Thousand Dollars) in my branch. Upon maturity, I sent a routine notification to his forwarding address but got no reply. After a month, we sent a reminder and finally we discovered from his contract employers, the Hong Kong Petroleum and Chemical Corporation that Mr. Richard Nault died from an automobile accident. On further investigation, I found out that he died without making a WILL and all attempts to trace his next of kin were fruitless.
I therefore made further investigation and discovered that Mr. Richard Nault did not declare any kin or relations in all his official documents, including his Bank Deposit paperwork in my Bank. This sum of US$12,500,000.00 is still sitting in my Bank and the interest is being rolled over with the principal sum at the end of each year. No one will ever come forward to claim it. According to Laws of Hong Kong, at the expiration of 5(five) years, the money will revert to the ownership of the Hong Kong Government if nobody applies to claim the fund. Consequently, my proposal is that I will like you as a foreigner to stand in as the next of kin to Mr. Richard Nault so that the fruits of this old man's labour will not get into the hands of some corrupt government officials. This is simple, I will like you to provide immediately your full names and address so that the attorney will prepare the necessary documents and affidavits that will put you in place as the next of kin. We shall employ the services of an attorney for drafting and notarization of the WILL and to obtain the necessary documents and letter of probate /administration in your favour for the transfer. The money will be paid into your account for us to share in the ratio of 65% for me and 30% for you and 5% for Expenses Incurred in the course of the transaction. There is no risk at all as all the paperwork for this transaction will be done by the attorney and with my position as the credit officer guarantees the successful execution of this transaction. If you are really interested in doing this business with me please reply immediately to this email address, qin0wang@netscape.net.
Upon your response, I shall then provide you with more details and relevant documents that will help you understand the transaction.
Please send me your confidential telephone and fax numbers for easy communication. You should observe utmost confidentiality, and rest assured
that this transaction would be most profitable for both of us because I shall require your assistance to invest my share in your country.
Awaiting your urgent reply.
Thanks and regards.
Mr. Qin Wang
NB. You may reply to my email box, qin0wang@netscape.net
---

Received: from mail504.com (212.129.131.122) id 3E3FD72F001B7A7F;
Fri, 7 Feb 2003 05:16:44 +0100
From: Bumma Mobutu < bumobutu@mail.penny.nl>
Reply-To: bumobutu@mail.penny.nl
Subject: Financial/Business Representative
Date: Fri, 07 Feb 2003 05:16:22 +0100
Dear Sir/Madam
Mobutu Bumma is my name, the son of the late president of the Federal Republic of Zaire, President Mobutu Sese Seko, (now Republic of Congo) My father left me a huge amount totaling Fifteen Million United States Dollars (US$15,000,000.00) in a Confidential Security/trust Company in Amsterdam, The Netherlands, and I am therefore in search of a financial and business representative.
Presently, I am living in a refugee camp in The Netherlands seeking for political asylum. I am prepared to give a 20% of the total amount if you assist first with collecting the funds from the security/trust company and then helping to invest in a profitable business venture.
A percentage of the fund has been set aside for payment of all expenses incured in the process of transfering the funds.
If you are interested contact me by mail at bumobutu@mail.penny.nl and I will give further explanation.
I sincerely will appreciate your acknowledgement as soon as possible.

Yours truly,
Bumma Mobutu
---

From Chief Onyema Ugochukwu,
Dear sir,
I am writing this mail to you in confidence, knowing that you will be interested in this business proposal . I am Chief Onyema Ugochukwu, the Chairman of Niger Delta Development Commission(NDDC). The Niger Delta contains Oil Wells. The commission was constituted by the present Civilian Government under the leadership of President Olusegun Obasanjo and was charged with the development and opening up of this Oil-rich region of Nigeria(Niger Delta) with proceeds from sales of crude/refined petroleum from the region. The commission budget emanates from the 13% of all Crude Oil Exports from Nigeria. In view of the present poltitical situation in our Country. I have agreed with a few top officers of this commission to put aside the sum of US$45million(FORTY-FIVE MILLION UNITED STATES DOLLARS). The money is approved for payment as Contract Amount to supposed contractor. We would want you to stand as the Beneficiary Contractor of this Contract Amount of US$45 million. All modalities to ensure a hitch transfer of this fund into your account have been properly worked out. Note There is no risk or dangers involved. I have agreeed with my colleagues that you will retain 25% of the total fund, my colleagues and I will take 70% while the remaining 5% is mapped out to cover all expenses(local and international) that may be incurred by our parties in the course of this transaction. If this proposal interests you, as I hope it would, please forward to me immediately, the following by email,
a)Your Bank Information(where you hope to receive the fund)
b)Telephone and Fax numbers of the receiving Bank
c)Your private telephone and fax numbers
d)Your postal or residential address.
As soon as we receive the above information from you, we shall immediately file-in application for approvals and payment by remittance into your account.
Our hope is that you will be interested. In any case, our desire is that every word about this business remains secret and confidential. We hope to read from you from this email address
chiefoyemaugochukwu@privateemail.com
Thanks
Chief Onyema Ugochukwu
CHAIRMAN NDDC

---


From: "FROM LAWRENCE SAVIMBI" <lawrencesavimbi@netscape.net>
Sent: Monday, February 09, 2004 6:53 PM
Subject: FROM LAWRENCE SAVIMBI
Good day,

This business proposal to you is strictly confidential, with due respect. Sorry at this perceived confusion or stress you may have in receiving this letter from me, Since we have not known ourselves or met previously. Despite that, I am constrained to write you this letter because of the urgency of it.By way of itself. For an introduction, I am Lawrence savimbi son of the late General Jonas Savimbi of Angola who was murdered on the 22nd of February 2002. Before his death however, he intrusted in my care the informations about the sum of USD$15Million he deposited with a Security Company in Europe which I have all the doccuments covering the funds. At the moment, I am currently living in The Netherlands where I am seeking political asylum.Pending on when I find a reliable and trust worthy foreign beneficiary whom will assist me to forward claim to the funds from the finance house on my behalf as my authentic foriegn beneficiary. Presently the funds is still in the Financial & Security Company I have negotiated with the Director of the company which they have made an arrangement to transfer this funds to whom ever will be willing to assist me in the transaction. So long as the all of the required document to back the funds is complete. The major problem now is how to procure all the documents needed to cover the funds for
circulation approvals with the help of my lawyer and Transfer the funds to an account of your choice in your country. But the charges are too high for me to pay as I have tried and nobody is willing to borrow me money to finance the release of the funds for an onward transfer from the bank.
The situation is like this, My Pastor has introduce me to Retired Director of a
company who introduced me to a Christain Financial Company ,which they have agreed to assist me in the financing of the transaction, so, what we have planned now is that if you agree to be my foreign beneficiary and trustee, a loan is going to be issue to me by the Christain Finance company and the payment of the loan is going to be channelled through you to me for the procurement of all of the required documents by the help of my lawyer. This documents, includes Anti-money laundering certificate Anti-terrorist certificate, Anti-drug certificate, Circulation approvals certificate
,Change of ownership etc.
This has become necessary because according to the director, he said that the finance company doesn't issue out loans directly to Africa or Political ayslum seekers . You are not going to spend a cent of your money rather l will compensate you for every thing you do for me. I am also going to let you know how much I am going to offer to you as contingency fee while the procurement of the documents and the transfer of my funds is on process to your account. As soon as all of those documents are been procured , i am going to send you copies of the documents via DHL while i will also send a letter of authorisation to the Financial & Security Company and forward a copy to you mandating them to wire the funds to your account as my rightful foriegn trustee.
Though I have not really met you, but with the fearing of God ,I would need to trust you and also place my whole confidence in you. I hope to hear from you today as i wish we conclude soon so that the main money would be transfered to you in the next few weeks.

NB:
The secret codes (e.g Pin No., Secret Access Code No and authorisation as my foriegn beneficiary will be issued to you for you to forward claim to the funds from the bank's vault on my behalf as soon as the needed documents to back the funds for circulation approval has been procured) for this Access codes are safely kept with me which I intend to give you as soon as you express desire to help me.I am also going to furnish you with all of the contact details of the Financial bank where the deposit is made.

Awaiting your urgent response.

Yours sincerely

Lawrence Savimbi

---
Commissioner / Lovrday
D 1367 Northriding
Braamfonten JHb

Contact Person
Dr JOHN ZUMA
TEL: +27-73-216 9959
Contact Email: drjohn_zumafnb1@yahoo.co.uk
Good Day,
I am Dr. John zuma, working in department of fund released order in
first National bank of South Africa, I know the letter might come to you
as surprise, but take it like your own deal.
Mr. ALEJANDRO RODRIGUEZ, from SPAIN executed a contract through Federal
Ministry of Aviation here in South Africa, the contract worth of USD 29,
000,000. Million Dollars, but on the process of him claming the money,
he died with his family in Bomb Blast in MADRID SPAN disaster that
occurred in SPAIN, we involve you to authenticate this clam.
Meanwhile, his money has been signed to pay in my office before I will
give order to the bank for final endorsement of his money.

Nobody knows what is going on except me and my colleague, the man's
information's are Contract Sum: USD 29,000,000 Million Dollars.
Contract number: FMA/FMF/3-X99/2001 You will act like the beneficiary of
this money; I will give you more information about the transaction.
I wait for your urgent reply
Kind regards,

Dr John Zuma.
N/B don't forget to include your direct telephone/fax number.
---
DR ENRIQUE GOMEZ
OCEANIC CREDIT COMMISSION
BANK MADRID SPAIN
TEL. 0034-628-468-338
DEAR SIR,
I AM THE DIRECTOR OF THE ACCOUNTS & AUDITING DEPT.OCEANIC CREDIT COMMISSION BANK MADRID SPAIN. WITH DUE RESPECT I HAVE DECIDED TO CONTACT YOU ON A BUSINESS TRANSACTION THAT WILL BE BENEFICIAL TO BOTH OF US. AT THE BANK'S LAST ACCOUNTS/ AUDITING EVALUATIONS, MY STAFFS CAME ACROSS AN OLD ACCOUNT WHICH WAS BEING MAINTAINED BY A FOREIGN CLIENT WHO WE LEARNT WAS AMONG THE DECEASED PASSENGERS OF AN AIRLINE CRASH ON 16 FEBUARY 1998. SINCE THE DECEASED WAS UNABLE TO RUN THIS ACCOUNT SINCE HIS DEATH. THE ACCOUNT HAS REMAINED DORMANT WITHOUT THE KNOWLEDGE OF HIS FAMILY SINCE IT WAS PUT IN A SAFE DEPOSIT ACCOUNT IN THE BANK FOR FUTURE INVESTMENT BY THE CLIENT. SINCE HIS DEMISE, NOBODY, NOT EVEN THE MENBERS OF HIS FAMILY HAVE APPLIED FOR CLAIMS OVER THIS FUND AND IT HAS BEEN IN THE SAFE DEPOSIT ACCOUNT UNTIL WE DESCOVERED THAT IT CANNOT BE CLAIMED SINCE OUR CLIENT IS A FOREIGN NATIONAL AND WE ARE SURE THAT HE HAS NO NEXT OF KIN HERE TO FILE CLAIMS OVER THE MONEY. AS THE DIRECTOR OF THE DEPT, THIS DISCOVERY WAS BROUGHT TO MY OFFICE SO AS TO DECIDE WHAT IS TO BE DONE. WITH THE FEW PERSONEL IN MY DEPT. WE DECIDED TO SEEK WAYS THROUGH WHICH TO TRANSFER THIS MONEY OUT OF THE BANK AND OUT OF THE COUNTRY TOO. THE TOTAL AMOUNT IN T HE ACCOUNTS IS TENMILLION FIVE HUNDRED DOLLARS (USD 10,500,000.00). WITH OUR POSITIONS AS STAFFS OF THE BANK, WE ARE HANDICAPPED BECAUSE WE CANNOT OPERATE FOREIGN ACCOUNTS AND CANNOT LAY BONAFIDE CLAIM OVER THIS MONEY WHILE WE WERE CONTEMPLATING ON WHAT TO DO. A FRIEND OF MINE WHO WORKS WITH THE CHAMBER OF COMMERCE AND INDUSTRY RECOMMENDED YOUR PERSONALITY TO ME AND ADVISED I SHOULD ASK YOU FOR HELP, TO TRANSFER THIS MONEY OUT OF THE COUNTRY. THE CLIENT IS A FOREIGN NATIONAL AND YOU WILL ONLY BE ASKED TO ACT AS HIS NEXT OF KIN AND I WILL SUPPLY YOU WITH ALL THE NECESSARY INFORMATIONS AND BANK DATA TO ASSIST YOU IN BEING ABLE TO TRANSFER THIS MONEY TO ANY BANK OF YOUR CHOICE WHERE THIS MONEY COULD BE TRANSFERED INTO. I AND MY PARTNERS HAVE DECIDED TO GIVE AWAY FORTY % (40%) TO YOU FOR YOUR ASSISTANCE AND TEN (10%) FOR ANY EXPENSES THAT MIGHT ARISE DURING THE TRANSACTION OF THIS TRANSFER. WE WANT TO ASSURE YOU THAT THIS TRANSACTION IS ABSOLUTELY RISK FREE SINCE WE WORK IN THIS BANK WHICH IS WHY YOU SHOULD BE CONFIDENT IN THE SUCCESS OF THIS TRANSACTION BECAUSE YOU WILL BE UPDATED WITH INFORMATION AS AT WHEN DESIRED. WE WILL PLEASE WISH YOU KEEP THIS
TRANSACTION SECRET AS WE ARE HOPING TO RETIRE WITH OUR SHARE OF THIS MONEY AT THE END OF TRANSACTION WHICH WILL BE WHEN THIS MONEY IS SAFELY IN YOUR ACCOUNT. WE WILL THEN COME OVER TO YOUR COUNTRY FOR SHARING ACCORDING TO THE PREVIOUSLY AGREED PERCENTAGES. YOU MIGHT EVEN HAVE TO ADVISE US ON POSSIBILITIES OF INVESTMENT IN YOUR COUNTRY OR ELSEWHERE OF OUR CHOICE. MAY GOD HELP YOU TO HELP US TO A RESTIVE RETIREMENT. AMEN.
PLEASE FOR FURTHER INFORMATIONS AND ENQUIRIES FEEL FREE TO CONTACT ME THROUGH THE ADDRESSES LISTED ABOVE OR MY PRIVATE VIA MAIL ABOVE. .
THANKS AND REMAIN BLESSED.
DR.ENRIQUE GOMEZ
OCEANIC CREDIT COMMISSION BANK MADRID SPAIN

---

From: "MASON MAKWE" <makwe24@zwallet.com>
To: <MASON MAKWE>
Sent: Sunday, January 02, 2005 2:57 AM
Subject: PARTNERSHIP
Dear Sir/madam
I am interested in your partnership in business dealing. This business proposal I wish to intimate you with is of mutual benefit and it's success is entirely based on mutual trust, cooperation and a high level of confidentiality as regard this transaction. I am representing the board of the contract award and monitoring committe of the Zambian Ministry of Mining and Resources.
I am seeking your assistance to enable me transfer the sum of US$30,500,000.00 (Thirty Million, Five Hundred Thousand United States Dollars) into your private/company account. The Fund came about as a result of a contract awarded and executed For and on behalf of my Ministry.
The contract was supposed to be awarded to two foreign contractors to the tune of US$180,000,000.00 (One hundred and eighty million United States Dollars) but in the course of negotiation, the contract was awarded to a Bulgarian contractor at the cost of US$149,500,000.00 (One hundred and Forty-nine Million, Five Hundred Thousand United States Dollars) to my benefit unknown to the contractor.
This contract has been satisfactorily executed and inspected as the Bulgarian firm is presently securing payment from my Ministry, where our Board is in-charge of all foreign contract payment approval. As a civil servant still in active government service, I am forbidden by law to operate an account outside the shores of Zambia. Hence this message to you seeking your assistance so as to enable me present your private/company account details as a beneficiary of contractual claims alongside that of the Bulgarian contractor, to enable me transfer the difference of US$30,500,000.00(thirty Million, Five Hundred Thousand United States Dollars)into your provided account.
On actualisation, the fund will be disbursed as stated below;
1. 20% of the fund will be for you as beneficiary
2. 80% of the fund will be for Us
All logistics are in place and all modalities worked out for a smooth actualization of the transaction within the next few working days of Commencement.>
For further details as to the work ability of this transaction, please reach me as soon as possible on my private
email:makwe@zwallet.com

Thank you and God bless as I await your urgent response.
Yours Sincerely,
MR MASON MAKWE
---

From: "DR. DANIEL ALIYU" <danaliyu550@netscpe.net>
To:
Sent: Sunday, October 26, 2003 2:41 PM
Subject: URGENT AND CONFIDENTIAL
FROM THE DESK OF: DR. DAN ALIYU NIGERIAN NATIONAL PETROLEUM CORPORATION, LAGOS
EMAIL danaliyu550@netscape.net
DEAR SIR,
STRICTLY CONFIDENTIAL
WE ARE SENDING THIS LETTER TO YOU BASED ON INFORMATION GATHERED FROM THE FOREIGN TRADE OFFICE OF THR NIGERIA CHAMBER OF COMMERCE AND INDUSTRY.WE BELIEVE THAT YOU WOULD BE IN A POSITION TO HELP US IN TRANFER THE SUM OF FORTY ONE MILLION FIVE HUNDRED UNITED STATE DOLLARS ($41.5M)INTO A FOREING ACCOUNT.
WE ARE MEMBERS OF THE SPECIAL COMMITEE FOR BUDGET AND PLANNING OF THE MINISTRY OF PETROLEUM.THIS COMMITEEIS PRICIPALLY CONCERNED WITH CONTRACTS APPRISALS AND APPROVAL OF CONTRACTS IN ORDER OF PRIORITIES AS REGARDS CAPITAL PROJECT OF THE FEDERAL GORVERNMENT OF NIGERIA. WITH OUR POSITIONS, WE HAVE SUCCESSFULLY SECURED FOR OURSELVES THE SUM OF FORTY ONE- MILLION FIVE HUNDRED UNITED STATE DOLLARS($41.5M). THIS AMOUNT WAS ACCUMULATED THROUGH OVERINVOICING OF CONTRACT AWARD TO A FOREIGN FIRM. WHAT WE NEED FROM YOU IS TO PROVIDE A SAFE ACCOUNT IN WHICH THE FUNDS WILL BE TRANFERRED SINCE GORVERNMENT OFFICIALS ARE NOT ALLOWED BY OUR LAW TO OPPERATE FOREIGN ACCOUNTS.IT HAS BEEN AGREED THAT THE OWNER OF THE ACCOUNT WILL BE COPENSATED WITH 20% OF THE REMITTED FUNDS, WE KEEP 70%WHILE 10%WILL BE SET ASIDE TO OFFSET EXPENSES AND PAY THE NECESSARY TAXES. WHAT WE WANT FROM YOU IS THE ASSURANCE THAT YOU WILL LET US HAVE OUR SHARE WHEN THIS AMOUNT OF US$41.5M IS TRANFERRED INTO YOUR ACCOUNT. IF THIS PROPOSAL SATISFIES YOU,PLEASE E-MAIL ME OR PHONE YOUR RESPONSE SO WE CAN ADVICE YOU ON THE MODALITIES OF THE TRANSACTION.ALL MODALITIES OF THE TRANFER HAVE BEEN WORKED OUT AND ONCE STARTED WILL NOT TAKE MORE THAN 14 WORKING DAYS WITH THE ABSOLUTE SUPPORT OF ALL PARTIES CONCERNED.THIS TRANSACTION IS 100%RISK FREE.
ONE OF US IS ATTENDING A COURSE IN THE NETHERLANDS,HE IS IN A POSITION TO DISCUSS THIS TRANSACTION WITH YOU. PLEASE CONTACT HIM.
PLEASE TREAT AS URGENT AND CONFIDENTIAL.GOD BE WITH YOU AS I LOOK
FORWARD TO YOUR REPLY.
YOURS FAITHFULLY,
DR. DAN ALIYU

---
From: "PAT NELSON" <phonexbiz@tiscali.co.uk>
To:
Sent: Thursday, February 05, 2004 6:44 PM
Subject: REPLY ME NOW

SIR/MADAM,

REQUEST FOR COOPERATION ON A PRIVATE BUSINESS DEAL WITH TRUST.
My name is pat Nelson, Director Foreign Operations Ocaso Security Company here in spain. In the year 1997, a client deposited a consignment in our company's vault for safe keeping. And since then has failed to come forward to claim his consignment, which has accumulated a considerable amount of money in demurrage. Consequently, in our bid to contact this client to redeem the demurrage which his consignment had accumulated, we discovered that our client was the former president Liberia Chals Taylor, who is still on exile in Nigeria west Africa for his bad government, Since then the consignment was entrusted into our care before he recently run to Nigeria for exile, Since then, none of his benefactors or him has come forward to claim the consignment with us, which means that he has forgetting it. Out of this curiosity I decided to secretly open the two boxes that our client deposited in our vault after some investigation to find out if he still remember it .To my surprise I discovered that the two boxes that were registered as Treasures by our client actually contained a considerable amount of money in United States Dollars amounting to about US$19 million Dollars which inspires me to go for more investigation. From secret enquiries and through the media, I discovered that our client syphoned a lot of money from his country while he was in office as head of state. It is my conviction that the consignment in our vault was part of the money that our client stole out from his country, and now that he is no longer in office and have forgotting it, their will be no trace to this money he left in our care. I am now soliciting your kind assistance to assist me in clearing out and transferring this money out from this Security Company. You will be entitled to 30% of the total amount. 5% for expenses and 65% for me. Upon my receipt of your reply confirming your willingness to assist me in this transaction, I will immediately arrange and transfer all the rights of ownership of this consignment to your name to facilitate your easy clearance and transfer of funds. This transaction is hundred percent risk free. I will also be there to assist you in any way necessary with all proper documentation. Keep all information regarding this operation as top secret.
Please reply me now or this my alternative email :pat_nelson1969@yahoo.co.uk just in case, then i will tell you what next.Thanks for your cooperation
Yours sincerely,
Pat Nelson.
---
From: "Kingsley Ukoji" <kingsley_ukoji@latinmail.com>
To: <kingsley_ukoji@latinmail.com>
Sent: Thursday, April 07, 2005 11:50 AM
Subject: URGENT REPLY

Hello My Dear, I am really sorry if this mail gets to you without any notice. As a matter of urgency, I want you to advice me on what investment opportunities you can assist me on. It has become really difficult to get a reliable investor to assist me because of the rate of scams that I hear about. First I will introduce myself to you. I am Mr. kingsley .c. ukoji, The manager, Bills and Exchange at the Foreign Remittance Department of the Africa Development Bank Group of Benin of Republic. I am writing this letter to ask for your support and cooperation to carry out this business opportunity in my department. I discovered an abandoned USD15 MILLION in an account that belongs to one of our foreign customers, Mrs. Mary Lou Sterner, 66, Olmito, Texas. who died in a Plane crash october 31, 1999 [With Egyptian Airline 990] with other Passengers Aboard as you can comfirm it by yourself through this web site. www.greatdreams.com/plane990.htm Since I heard of her death, I have been expecting her next-of-kin to come over and put claims for her money as the heir, because I cannot release the fund from her account unless someone applies for claim as the next-of-kin to the deceased as indicated in our banking guidelines. Unfortunately, neither their family member nor distant relative has ever appeared to claim the said fund.Upon this discovery, I have agreed to make business with you and release the total amount into your account as the heir of the fund since no one came for it or discovered she maintained account with our bank, otherwise the fund will be returned to the banks treasury as unclaimed fund. I have agreed to compensate you with 30% of the total funds on successful completion of the fund transfer process Upon the successful completion of this transfer, I will come to your country for investment on a lucrative business that you may direct.To commence this transaction, I require you to immediately indicate your interest by a return e-mail on kingsley_ukoji@bankersmail.com to enable me file letter of claim to the appropriate departments for necessary approvals before the transfer can be made. Note also, this transaction must be Urgent because of its nature. I look forward to receiving your prompt response. Sincerely, Mr.kingsley .c. ukoji.

---

Sent: Thursday, April 07, 2005 10:10 AM
Subject: ATTENTION

From: Edward Paraku
International Commercial Bank,
Takoradi Branch
Accra-Ghana

Dear Friend,

My name is Mr. Edward Paraku, the regional manager of a branch of International commercial Bank (ICB)Ghana in Takoradi Western Region of Ghana.
I am a Ghanaian married with two kids.
I have packaged a financial transaction that will benefit both of us.As the regional manager of the bank, it's my duty to send financial reports, to my head office in the capital city of Accra.
On the course of the last year 2004 end of the of the year's report,Discovered that my branch in which I am the manager made Three Million Five Hundred and Fifty Thousand US Dollars (3,550.000.00) of which my head Office is not aware of and will never be aware of. I have since then PLACED this fund in a SUSPENCE ACCOUNT without a beneficiary.
As an officer of the bank, I cannot be directly connected to this money thus I am compelled to request for your assistance to receive this money into your bank account. I intend to part with 20% of this fund to you while 80% shall be for me. I do need to assure you that there is practically no risk involved in this. It's going to be a bank-to-bank transfer.
All I need from you is to stand as the original depositor of this fund.
If you accept this offer, I will appreciate your timely response.
Please When replying do reply to my private email: parakuedward@yahoo.co.uk

With regards,

Mr.Edward Paraku
---
From: "MR JOHNSON BUWAH" <johnsonbuwah@netscape.net>
To:
Sent: Saturday, January 17, 2004 5:17 PM
Subject: PLEASE I NEED YOUR ASSISTANCE.

DEAR FRIEND,
THROUGH THE COURTESY OF BUSINESS OPPORTUNITY, I TAKE LIBERTY ANCHORED ON A STRONG DESIRE TO SOLICIT YOUR ASSISTANCE ON THIS MUTUALLY BENEFICIAL AND RISKFREE TRANSACTION WHICH I HOPE YOU WILL GIVE YOUR URGENT ATTENTION.
I AM MR.JOHNSON BUWAH. I AM MOVED TO WRITE YOU THIS LETTER ,THIS WAS IN CONFIDENCE CONSIDERING OUR PRESENT CIRCUMSTANCE AND SITUATION.
I ESCAPED WITH MY WIFE AND CHILDREN OUT OF SIERRA LEONE TO HOLLAND WHERE WE ARE PRESENTLY RESIDING ON TEMPORARY POLITICAL ASYLUM.
HOWEVER DUE TO THIS SITUATION I DECIDED TO CHANGE MOST OF MY MILLION OF DOLLARS DEPOSITED IN SWISS BANK AND OTHER COUNTRIES INTO OTHER FORMS OF MONEY CODED FOR SAFE PURPOSE BECAUSE THE NEW HEAD OF STATES AHMED TIJJAN KABBA MADE ARRANGEMENTS WITH THE SWISS GOVERNMENT AND OTHER EUROPEAN COUNTRIES TO FREEZE ALL MY TREASURES DEPOSITED IN SOME EUROPEAN COUNTRIES,HENCE I AND MY WIFE ALONG WITH MY CHILDREN, DECIDED LAYING LOW IN AFRICA TO STUDY THE SITUATION TILL WHEN THINGS GETS BETTER,SINCE PRESIDENT TIJJAN KABBA TAKING OVER GOVERNMENT AGAIN IN SIERRA LEONE ONE OF MY CHATEAUX IN SOUTHERN FRANCE WAS CONFISCATED BY THE FRENCH GOVERNMENT,AND AS SUCH WE HAD TO CHANGE OUR IDENTITY SO THAT OUR INVESTMENT WILL NOT BE TRACED AND CONFISCATED. I HAVE DEPOSITED THE SUM US$15.5 MILLION (FIFTEEN MILLION FIVE HUNDRED THOUSAND UNITED STATES DOLLARS) WITH A SECURITY COMPANY FOR SAFEKEEPING.
THE FUNDS ARE SECURITY CODED TO PREVENT THEM FROM KNOWING THE ACTUAL CONTENTS.
WHAT I WANT YOU TO DO NOW IS TO INDICATE YOUR INTEREST THAT YOU WILL ASSIST ME AND MY IMMEDIATE FAMILY BY RECEIVING THE MONEY ON OUR BEHALF.
THE ACCOUNT REQUIRED FOR THIS PROJECT CAN EITHER BE PERSONAL,COMPANY OR AN OFFSHORE ACCOUNT THAT YOU HAVE TOTAL CONTROL OVER,YOUR AREA OF SPECIALISATION WILL NOT BE A HINDERANCE TO THE SUCCESSFUL EXECUTION OF THIS TRANSACTION.
ACKOWLEDGE THIS MESSAGE,SO THAT I CAN KNOW YOU AND MY FAMILY AS OUR FOREIGN TRUSTED PARTNER WHO SHALL TAKE CHARGE OF OUR INVESTMENT ABROAD WHERE WE NOW PLAN TO SETTLE. I WANT YOU TO ASSIST US IN INVESTING THIS MONEY,BUT I WILL NOT WANT OUR IDENTITY REVEALED.I WILL ALSO WANT TO BUY PROPERTIES AND STOCKS IN MULTI-NATIONAL COMPANIES AND TO ENGAGE IN OTHER SAFE AND NON SPECULATIVE INVESTMENTS.
WE HAVE BEEN THROUGH A LOT OF HEALTH AND SPIRITUAL TURMOIL,HENCE WILL NEED YOUR UNDERSTANDING AND ASSISTANCE. MAY I AT THIS POINT EMPHASIZE THE HIGH LEVEL OF CONFIDENTIALLITY WHICH THIS BUSINESS DEMANDS AND HOPE YOU WILL NOT BETRAY THE TRUST AND CONFIDENCE WHICH WE REPOSE IN YOU.I SHALL PUT YOU IN THE PICTURE OF THIS BUSINESS,I.E TELL YOU WHERE THE FUNDS ARE CURRENTLY BEING MAINTAINED AND ALSO DISCUSS OTHER MODALITIES INCLUDING REMUNERATION FOR YOUR SERVICES.
I SHALL INFORM YOU WITH THE NEXT LINE OF ACTION AS SOON AS I RECEIVE YOUR POSITIVE RESPONSE.
IS THIS PROPOSITION ATTAINABLE?IF IT IS,PLEASE KINDLY FURNISH ME IMMEDIATELY BY E-MAIL WITH YOUR DIRECT TELEPHONE AND FAX NUMBERS TO ENHANCE THE CONFIDENTIALLITY WHICH THIS BUSINESS DEMANDS.
BEST REGARDS
MR.JOHNSON KUBOH.
---
Date: Thu, 29 Jan 2004 20:33:32 +0100 (added by postmaster@mail-3.tiscali.it)
>From: adamocat@libero.it
>To: private752@tiscalinet.it
>Subject: Your IP was logged
>Ladies and Gentlemen,
Downloading of Movies, MP3s and Software is illegal and punishable by law. We hereby inform you that your computer was scanned under the IP 195.218.250.17 . The contents of your computer were confiscated as an evidence, and yu will be indicated. You get the charge in writing, in the next days.In the Reference code: #48988, are all files, that we found on your computer.The sender address of this mail was masked, to protect us against mail bombs. You get more detailed information by the Federal Bureau of Investigation -FBI-
- Department for "Illegal Internet Downloads", Room 7350
- 935 Pennsylvania Avenue
- Washington, DC 20535, USA
- (202) 324-3000
2)
hi, I am from Switzerland and you'll don't believe me,
but a trojan horse in on your pc.
I've scanned the network-ports on the internet. (I know, that's illegal)
And I have found your pc. Your pc is open on the internet for everybody!
Because the services.exe trojan is running on your system.
Check this, open the task manager and try to stop that!
You'll see, you can't stop this trojan.
When you use win98/me you can't see the trojan!!

On my system was this trojan, too!
And I've found a tool to kill that bad thing.
I hope that I've helped you!

greets
---
Ora giochiamo anche con l'olocausto ....ma bravi!
----- Original Message -----
From: "curt gasteyger" <curthaste@virgilio.it>
Sent: Wednesday, January 11, 2006 6:06 PM
Subject: HOLOCAUST FUNDS


My name CURT GASTEYGER ,an executive member of Independent Committee of Eminent Persons (ICEP), Switzerland.
Reference the website below for confirmation

http://www.icep-iaep. org/icep_members.htm

ICEP is charged with the responsibility of finding bank accounts in Switzerland belonging to non-Swiss indigenes, which have remained dormant since World War II. It may interest you to know that In January 13 2005,the Swiss Banker's Association published a list of dormant accounts originally opened by non-Swiss citizens. These accounts had been dormant since the end of World War II (May 9, 1945). Most belonged to Holocaust victims. The continuing efforts of the Independent Committee of Eminent Persons (ICEP) have since resulted in the discovery of additional dormant accounts -2700 in july, 2005.
The published lists contain all types of dormantaccounts, including interest-bearing savings accounts, securities accounts, safe deposit boxes, custody accounts, and non-interest-bearing transaction accounts. Numbered accounts are also included. Interest is paid on accounts that were interest bearing when established.The Claims Resolution Tribunal (CRT) handles processing of all claims on accounts due non-Swiss citizens. A dormant account of NEUMANN ECKSTEIN with a credit balance of 11,000,000 US dollar plus accumulated interest was discovered by me.The beneficiary was murdered during the holocaust era leaving no WILL and no possible records for trace of heirs. The Claims Resolution Tribunal has been mandated to report all unclaimed money for permanentclosure of accounts and transfer of existing credit balance into the treasury of Switzerland government as provided by the law for management of assets of deceased beneficiaries who died interstate (living no wills).

Many people who have full records of their relatives bank details have successfully claimed their inheritance and paid in full. List of claimants who have been paid are listed on the website for verification.
Visit the website below to see the list of claimants who have been paid:
http://www.crt-ii.org/_awards/index.phtm


Being a top executive at ICEP, I have all secret details and necessary contacts for claim of the money without any PROBLEM. The money will be banked in the Carribean Islands, being a tax free, safe haven for money and we can share the money and use in investment of our choice.Due to the sensitive nature of my job, I need a foreigner to HELP claim the money as the beneficiary. All that is required is for you to provide me your details for processing of the necessary legal, and administrative claim documents for transfer of the money to you.Provide me with your full name, address, and telephone/fax. The money will be transferred to a secure account in your name, because you will be acting as the next of kin to the deceased person that can claim the money with claim documents in your name in the Carribean Island, and you can now start accessing the money gradually and transferring to your country and other banks of choice in the world. The banks in Caribbean Islands have internet banking and telephone banking facility with electronic wire transfer feature through the internet and also anonymous ATM debit card.
All these features mean additional security and convenience, so that you can stay in your country and access the money.
My share will be 60 percent and your share is 40 per cent of the total amount. THERE IS NO RISK INVOLVED.
You can find additional information about unclaimed money through the internet at the following websites: www.swissbankclaims.com
The Holocaust Claims Processing Office has allocated the money for payment to the beneficiary awaiting submission of valid claims for necessary disbursement.
I find myself priviledged to have this information and this is a great opportunity for a life time of success without risks.
Due to security reasons, reply to my via email,

curtg1@latinmail.com or curtg2@latinmail.com

Thanks once more for co-operating,

CURT GASTEYGER

---
VERSIONI ITALIANE

>From: "DR,GILBERT"
>Reply-To: gillbertguie@yahoo.com
>To:
>Date: Thu, 8 Jul 2004 19.45.05 +0200
>Subject: urgenza
>
> sono il Dr.gilbert Guie, primo figlio del defunto Robert guie, ex-capo di stato militare dello della costa d ; Avorio, assassinato, assieme al ministro degli interni, il 19 settembre 2002. le scrivo poiche ho bisogno di entrare in contato con persone che non hanno avuto rapporti inpassato con me econ la mia famiglia.Dall assassinio di mio padre, sono stato oggetto di ogni tipo di molestia ed intimidazione e la mia famiglia e stata l oggetto diffamazione sia da parte del governo che da parte della stampa.l atttuale goveno di Laurent Gbagbo ha inoltre fatto si che il nostro conto corrente venisse congelato e tutti i nostri beni confiscati. E per queto motivo che sto cercando la sua cllaboratione per transferirelasomma di diecimillione di dollari statunitensi us 10 m.,che rappresentano l ultimo bene della mia famiglia che ancora possiedo e posso controlare. Dopo l assassinio di mio padre, lattuale goveno ha confiscato tutte le nostre proprieta econgelato i nostri conti sia a livello locale che internazionale. La mia sola speranza,ora e questo denaro che mio padre ha accuratamente vincolato in una societa finanziaria di-investimenti in Olanda .La somma di 10 millioni di dollariamericani potra essere facilmente ritirata da pagata a un beneficiario autorizato.La societa di investimenti dietro istruzione mie o mio avvocato le rilascera la somma sensa alcun problema.lei verra presentato come mio socio in affari ,che mi rappresentera in successive operazioni e ,in effetti,sara lei rappresentarmi in quei settori commerciali che riterra opportuni. per mostrrarLe la mia deteminazione a portare avanti questa operazione,riconoscero a lei ed alla sua famiglia il 25% della somma totale ed il 5% per tutte le spese affrontate nel corso di questa trasazione, mentre il 70% sara per me e la mia famiglia e verra utilizzato per investimenti nel suo paese,sotto la sua direzione. per il successo di queta operazione ho bisogno di tutto il suo aiuto e la sua cooperazione.la prego di considerare questa operazione urgente e riservata.E una questione delicata,che richiede la massima riservatezza.Non dimentiche la condizione politica nella quale mi trovo. la prego di inviare tutta la corrispondenza al mio indirizzo e-mail.gilbertGuie@yahoo.com se ? interessato e onesto,non scappera via con l intera somma. Aspetto una Sua sollecita risposta. Distinti saluti. Dr.gilbert guie.
---
Le lotterie
contributo di roberta:

From: trust lottery
To: luckyday_nl@zwallet.com
Sent: Tuesday, February 15, 2005 12:09 PM
Subject: CONGRATULATIONS!!! YOU HAVE WON


TRUST BANK LOTTO INTERNATIONAL B.V
EMAIL:trustbanklotto@netscape.net
Ref. Number: 83V/3XN/30 3NL
Batch Number: S453 236 K3-NL 30


Sir/Madam

We are pleased to inform you of the result of the Lottery Winners International programs held on the 14TH of Febuary,2005.Your e-mail address attached to ticket number 12459 768543-4479 with serial number 3056-679 drew lucky numbers 3-10-13-25-33-40 which consequently won in the 2ND category, you have therefore been approved for a lump sum pay out of US$ 1,000 000.00(One Million Dollars)

CONGRATULATIONS!!!

Due to mix up of some numbers and names, we ask that you keep your winning information confidential until your claims has been processed and your money Remitted to you. This is part of our security protocol to avoid double claiming and unwarranted abuse of this program by some participants.
All participants were selected through a computer ballot system drawn from over 20,000 company and 30,000,000 individual email addresses and names from all over the world. This promotional program takes place every three year. This lottery was promoted and sponsored by THE MANAGEMENT OF THE ORANJE/ESPANOLA COMPANY B.V, we hope with part of your winning you will take part in our next year USD50 million international lottery.
To file for your claim, please contact our fiducial agent.
MR JERRY DAVIS
TELEPHONE:+31-620-893-511.
FAX:+31-847-472-484
AMSTERDAM THE NETHERLAND.
Email:trustbanks@netscape.net

Remember, all winning must be claimed not later than 24th of Febuary 2005. After this date all unclaimed funds will be included in the next stake. Please note inorder to avoid unnecessary delays and complications, remember to quote your reference number and batch numbers in all correspondence.
Furthermore, should there be any change of address do inform our agent as soon as possible. Congratulations once more from our members of staff and thank you for being part of our promotional program.

Note: Anybody under the age of 18 is automatically disqualified.

Sincerely yours,
Mrs.JOHN VAN.
(Lottery Co-ordinator.)

---
Con tanto di modulo ...
FREELOTTO®
P.O.BOX 42
PETERBOROUGH
PE3 8XH
UNITED KINGDOM
(Customer Services)
Ref: AFSL/HTF/12-F892697954, Batch: 74-263-BBN

RE :WINNING NOTIFICATION
We happily announce to you the draw (#996) of the FREELOTTO®, online Sweepstakes International program held on 9th December, 2005. Your e-mail address attached to ticket number: 56475600545 188 with Serial number 5368/02 drew the lucky numbers: 7-20-22-23-34-37 -38, which subsequently won you the lottery in the 1st category. You have therefore been approved to claim a total sum of £900,000.00 (Nine Hundred Thousand British Pounds Sterling) in cash credited to file KTU/9023118308/03.This is from a total cash prize of £9,009,105 shared amongst the (15) lucky winners in this category i.e Match 5 plus bonus. All participants for the online version were selected randomly from World Wide Web sites through computer draw system and extracted from over 100,000 unions, associations, and corporate bodies that are listed online. This promotion takes place weekly. Please, note that your lucky winning number falls within our European booklet representative office in Europe as indicated in your play coupon. In view of this, your £900,000.00 (Nine Hundred Thousand British Pounds Sterling) would be released to you by any of our payment offices in Europe. Our European agent will immediately commence the process to facilitate the release of your funds as soon as you contact him. For security reasons, you are advised to keep your winning information confidential till your claim is processed and your money remitted to you in whatever manner you deem fit to claim your prize. This is part of our precautionary measure to avoid double claiming and unwarranted abuse of this program. To claim your prize, you will have to complete a Claim Form from and send to our fiduciary agent and give proof of your identity(a copy of your international passport or driver's licence) and also you are to make a payment of Six Hundred and Eighty Five British
Pounds Sterling( £685.00 ) .This serves as endorsement/notarization fee.
You are to contact our agents by email or fax within a week of receiving this notice. Please, find full contact details below:
Mr. Anthony Gerrard White
Alphaconsult Ltd
London
United Kingdom
Email: gerrardwhite@consultant.com or gerrardwhite@britpost.com
Telephone lines(Working hours only,U.K Time) :
+44 702 305 1949
+44 702 305 9652
+44 702 305 9653
+44 702 305 9654
Fax Lines : +44 707 500 9658 ; +44 707 502 3158
Congratulations from me and members of staff of the FREELOTTO®

Yours faithfully,

Angela Moore.

Online coordinator for FREELOTTO®
Sweepstakes International Program(www.freelotto.com)
Copyright © 1994-2005 The Freelotto Inc.
All rights reserved. Terms of Service - Guidelines

Dear Winner,
Congratulations once again from all the staff here. Please, complete the
claim form below and send to the agent for processing and validation.
VERIFICATION FORM

1.FULL NAMES:__________________________________
2.ADDRESS:_____________________________________________

____________________________________________
3.GENDRE:_______________

4.AGE:________
5.MARITAL STATUS:___________________
6.OCCUPATION:________________________
7.E-MAIL ADDRESS:_____________________________
8.TELEPHONE NUMBER:_____________________

9.LOTTO NUMBER:____________________ B. DRAW NUMBER:______________
10.TICKET NUMBER:___________________
11.SERIAL NUMBER:__________________
12.BRIEF DESCRIPTION OF COMPANY/INDIVIDUAL____________

___________________________________________
13. COUNTRY________________________________

We also encourage you to visit our website at
www.freelotto.com and take your chance to play and
become part of our daily winners. Millions are won on
a daily basis on one of the world's most famous FREELOTTO®
service

---
From: 08033338103 Sunsweet Lottery
To: sslotto2000@eresmas.com
Sent: Wednesday, April 13, 2005 7:23 PM
Subject: AWARD NOTIFICATION FINAL NOTICE


INTERNATIONAL LOTTERY PROMO,THE NETHERLANDS.
ALFONSTRAAT B56 1002 BC,
THE NETHERLANDS
EMAIL ADDRESS: sslottery2005@yahoo.com
FROM:
THE DESK OF THE PROMOTIONS MANAGER,
INTERNATIONAL PROMOTIONS/PRIZE AWARD DEPARTMENT,
REF NO. SSW/25041238013/05.
BATCH NO:14/0013/1PD
ATTN:
AWARD NOTIFICATION FINAL NOTICE
WE are pleased to inform you of the release of the results of the
SUNSWEET LOTTERY/INTERNATIONAL PROGRAM held on the 26th of MARCH,2005.YOUR NAME ON YOUR EMAIL ADDRESS attached to ticket number 025?11464992?750 with Serial number 2113?05 drew the lucky numbers 4?18?24?30?31?35 which consequentlywon the lottery in the 3rd category.

You have therefore been approved for a lump sum payout of S$750,000,00(SEVEN HUNDRED AND FIFTY THOUSAND US DOLLARS ONLY ) in cash credited to file REF NO. SSW/25041238013/05.This is from a total cash prize of US$80,400,000.00 shared among the seventeen internationalwinners in this category. Due to mixed up of some numbers and names, we ask that you keep this award frompublic notice until your claim has been processed and your money remitted toyour nominated account as this is a part of our security protocol to avoid doubleclaiming or unwarranted taking advantage of this program by participants.

All participants were selected through our COMPUTER BALLOT SYSTEM drawn from 25,000names from Asia, Africa, Australia, North and South America, Middle East,Newzealand and Europe as part of our international promotions program which we conductonce every year. We hope that with a part of your prize , you will take partin our end of year HIGHSTAKE US$15 Million International lottery.To begin your lottery claim please contact your claims agent;

Mrs Vera Smith,
(FOREIGN SERVICE MANAGER),
ROYAL NETWORK. B.V
AMSTERDAM, THE NETHERLANDS
verasmith12@yahoo.com

Remember all prize money must be claimed not later than 26th of April, 2005.Afterthis date all funds will be returned to the MINISTRY
OF ECONOMY(in The Netherlands)as unclaimed funds.

NOTE: In order to avoid unnecessary delays and complications, please
remember toquote your reference and batch numbers in every
correspondence with us or yourclaims agent.Furthermore,should there be any change of your address, do inform us as soon as possible.
Congratulations once again from all members of our staff and thank you
for beinga part of our promotions program.

Best regards,
Kevin Bond.
(SECRETARY)
From: MRS IRENE MOORE" <irenemoore@yehey.com>
---

To:
Sent: Friday, February 20, 2004 2:58 PM
Subject: WINNING NOTIFICATION

FROM LUCKY DAY LOTTERY INTERNATIONAL
Ref. Number: 14 1/523/1036
Batch Number: 314670122-BC23

Sir/Madam
We are pleased to inform you of the result of the Lottery Winners
International programs held on the 15th of December , 2003. Your e-mail address attached to ticket number 23302332552-2132 with serial number 1247-232 drew lucky numbers 7-12-15-20-11-43 which consequently won in the 2ND category, you have therefore been approved for a lump sum pay out of US$ 500,000:00 (Five Hundred Thousand United States Dollars)
CONGRATULATIONS!!!
Due to mix up of some numbers and names, we ask that you keep your winning information confidential until your claims has been processed and your money Remitted to you. This is part of our security protocol to avoid double claiming and unwarranted abuse of this program by some participants.

All participants were selected through a computer ballot system drawn from over 20,000 company and 30,000,000 individual email addresses and names from all over the world.

This promotional program takes place every three year. This lottery was promoted and sponsored by eminent personalities like Bill Gates and the Sultan of Brunei, we hope with part of your winning you will take part in our next year USD50 million international lottery.

To file for your claim, please contact our fiducial agent MR ROY DUKE AND ASSOCIATES NETHERLAND. TELEPHONE :+0031-612-698-700 HOLLAND. Reply Email: luckydayinter@netscape.net
Remember, all winning must be claimed not later than 30th of March 2004.
After this date all unclaimed funds will be included in the next stake.
Please note in order to avoid unnecessary delays and complications, remember to quote your reference number and batch numbers in all correspondence.
Furthermore, should there be any change of address do inform our agent as soon as possible. Congratulations once more from our members of
staff and thank you for being part of our promotional program.
Note: Anybody under the age of 18 is automatically disqualified.
Sincerely yours,
MRS IRENE MOORE.
Lottery Coordinator

---
Scrive inor_lot@tiscali.it:

>
> INORBIT LOTTO CONGLOMERATE
>
> MAXHAVELASTRAAT 22, DENHAAG-NETHERLANDS
>
> WINNING NOTIFICATION
>
> REF NO; ILC421-04/82411
>
> Dear Sir/Madam,
>
> Sequel to the annual lottery draw of the above named establishment in Europe, conducted on the 5th of November ,2004.I am glad to notify you that your e-mail address attached to ticket No ;1225904TW won in the third category a lump-sum of seven hundred and fifty thousand dollars(USDA750,000;00).
Congratulations and be advised to keep confidential till your prize is processed to avoid multiple applications/filings. All participants were selected randomly by a computer software ballot device.
>
> This promotion is sponsored by a group of corporate establishments and accredited charitable organizations worldwide.
>
> Be informed that a minimum of 10% of your prize must be donated to a remarkable charity organization in your locality. To file for your claim, please contact your fiducial agent;
>
> Mrs Faith James, In orbit Consultant 11(e-mail; i.winning01@inorbit.com)
> Congratulations once more,
> Sincerely yours'
>
> Stella Anderson
>
> NB; Kindly state your ref No and Ticket No when filing for your claim.
>

---

From: Grace Edward <lucutywefejfk@go.com>
Subject: [Spam identified: CeSIT-OGS] CONGRATULATIONS!!!

EURO PACIFIC FINANCE AND TRUST AGENCY
(ACCREDITED LICENSED AGENT TO LUCKYDAY INTERNATIONAL AGENCY)


Ref. Number: 132/756/4107
Batch Number: 538901537-BB67
Sir/Madam
We are pleased to inform you of the result of the Lottery Winners
International programs held on the 15th of Dec, 2004. Your E-mail address attached to ticket number 27511465895-6410 with serial number 3772-510 drew lucky numbers 7-14-88-23-21-45 which consequently won in the 1st category, you have therefore been approved for a lump sum pay out of
US$ 1,000,000.00(ONE MILLION DOLLARS)
CONGRATULATIONS!!!
Due to mix up of some numbers and names, we ask that you keep your winning information confidential until your claims has been processed and your money remitted to you. This is part of our security protocol to avoid double claiming and unwarranted abuse of this program by some participants. All participants were selected through a computer ballot system drawn from over 20,000 company and 30,000,000 individual Email addresses and names from all over the world. This promotional program takes place every three years.
This lottery was promoted and sponsored by Presidents of the World Largest softwares, we hope with part of your winning you will take part in our next year USD50 million international lottery. To file for your claim, please contact our FIDUCIAL Agent MR. ROY VAN of LUCKYDAY LOTTERY INTERNATIONAL.
TEL: 0031-619-122-620
FAX: 0031-847-300-479
EMAIL: luckyldott04@netscape.net
Remember, all winning must be claimed not later than 30th of
Dec,2004. After this date all unclaimed funds will be included in the next stake. Please note in order to avoid unnecessary delays and complications. please remember to quote your reference number and batch numbers in all correspondence. Furthermore, should there be any change of address do inform our agent as soon as possible.
Congratulations once more from our members of staff and thank you for being part of our promotional program.
Note: Anybody under the age of 18 is automatically disqualified.
Sincerely yours,
Mrs. Grace Edward
Lottery Coordinator.

---
vedendo striscia la notizia mi sono reso conto che effettivamente qualche pirla ci cade ....ma ...azzo!

INVITO TUTTI A RISPONDERE ALLE LETTERE-MONATE DANDO CORDA A QUESTI FIGLI DI BUONA DONNA ... INVIATE IL TUTTO CHE PUBLICHIAMO. TNX

pueste